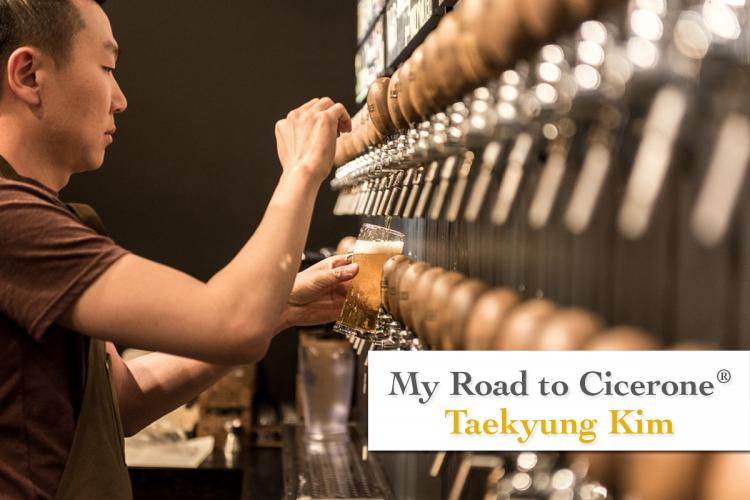 ---
My Road to Cicerone®: Taekyung Kim of Amazing Brewing Company
---
Taekyung Kim is a Certified Cicerone® from Seoul, South Korea, and was the second person in his country to pass the exam. Here he shares how earning his certification helped him move into the beer industry and grow his business.
Where do you work and what do you do there?
I am the CEO of Amazing Brewing Company, located in Seoul, South Korea.
How did you first hear of the Cicerone Certification Program?
I first heard about Cicerone program from my friends in the homebrewing community in Korea.
Why did you choose to pursue Certified Cicerone while already working in the beer industry?
I believe the Cicerone program is the best way to organize knowledge about beer. I've seen many homebrewers and beer servers who have been in beer industry so long, but most of their knowledge about service and brewing is based on their experiences or things they've heard from friends. The Cicerone program syllabus is the best way to organize scattered knowledge about beer and understand things you've just taken for granted.  
What was your study support network like?
Did you receive support from a study group, your employer, or study solo? I studied alone. I mostly used the 'Road to Cicerone' book series and used 'The Oxford Companion to Beer' as a reference. I lived in Amsterdam when I took the exam, so it was not so difficult to get different styles of beers…it is quite difficult in Seoul.
Describe your study process. How did you prepare for the exam?
I read the Road to Cicerone series repeatedly and summarized them in a couple of pages of notes. For off flavors, I tried the AROXA off-flavor kit more than three times and then I felt comfortable about discerning off-flavors. I did many comparison tastings for confusing styles, (e.g. Dubbel vs. Doppelbock) to learn the differences.
Explain how earning your certification has helped your career.
It gave me courage to change my career. I was a management consultant before and some of my clients were in the alcoholic beverage industry. I knew about the beer industry, but was not so confident about understanding beer as a product. I am the second Korean who earned Certified Cicerone and it was in 2014 when the Korean beer community was just opening up to the diversity of craft beer world. After earning Certified Cicerone, I changed my career and opened a brewpub in the center of Seoul. Media paid attention to my story about earning the certification and changing my career and I was lucky enough to have my story published in local news articles. 
What are your greatest strengths now that you're a Certified Cicerone?
I have enjoyed the 'first movers advantage' in Asia. When I was certified in 2015, there were not many Certified Cicerones in all of Asia, let alone South Korea. This gave me lots of opportunities to judge homebrew competitions, media exposure, and an increased global human network. I have been on almost all major media in Korea (TV and newspaper), and I have been invited to many beer competitions in Asia. Also, I am currently talking with many Cicerones in other countries about beer business and potential co-work opportunities.     
Were there any areas of study that you became particularly interested in while preparing for the Certified Cicerone exam?
Keeping & serving and food pairing, because I was planning to open a brewpub or a pub when I was studying for the exam. Even now, it is extremely helpful to go back to my study material and check again.
In your opinion, how valuable is it for those looking to boost their career to earn Cicerone certification?
It helped me tremendously to change my career and helped me to soft-land in the beer industry. Especially when your local community does not have many Certified Cicerones, it can give you great 'first mover' advantage. If your local community already has many Certified Cicerones, then it's even better because you already have a strong community that will back you up.
What advice do you have for Certified Beer Servers who are looking into taking the Certified Cicerone exam?
Organize your knowledge. You already know the stuff.
Ready to get started? Learn more about the Certified Cicerone exam here!