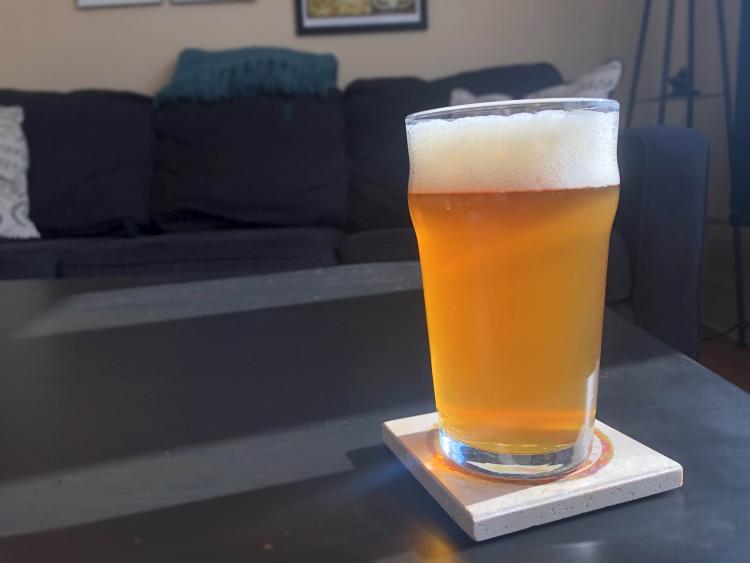 ---
The Cicerone Guide to Drinking Beer at Home
---
Here at Cicerone, we talk a lot about what goes into good beer service at a bar or restaurant. So many factors can affect the quality of the beer we get at our favorite watering hole, like storage conditions, serving technique, and glassware selection, to name a few. But now, with so many of us staying at home for a while, you may be wondering how to get the most out of your beer-drinking experience at home. Some of you who've passed the Certified Beer Server exam might already know this stuff, but for the rest of you stuck at home, here's some tips:
Keep freshness in mind with crowlers and growlers. If you're like me, you're buying a lot of to-go beer in crowlers and growlers from your local taprooms. Keep in mind that beer packaged in these containers is not meant to be stored as long as a regular can or bottle. The nature of filling them reduces carbonation a bit and, more importantly, introduces oxygen, which limits shelf life to about three days. After that, you start to see some obvious signs of age (more on this below). So drink these fresh!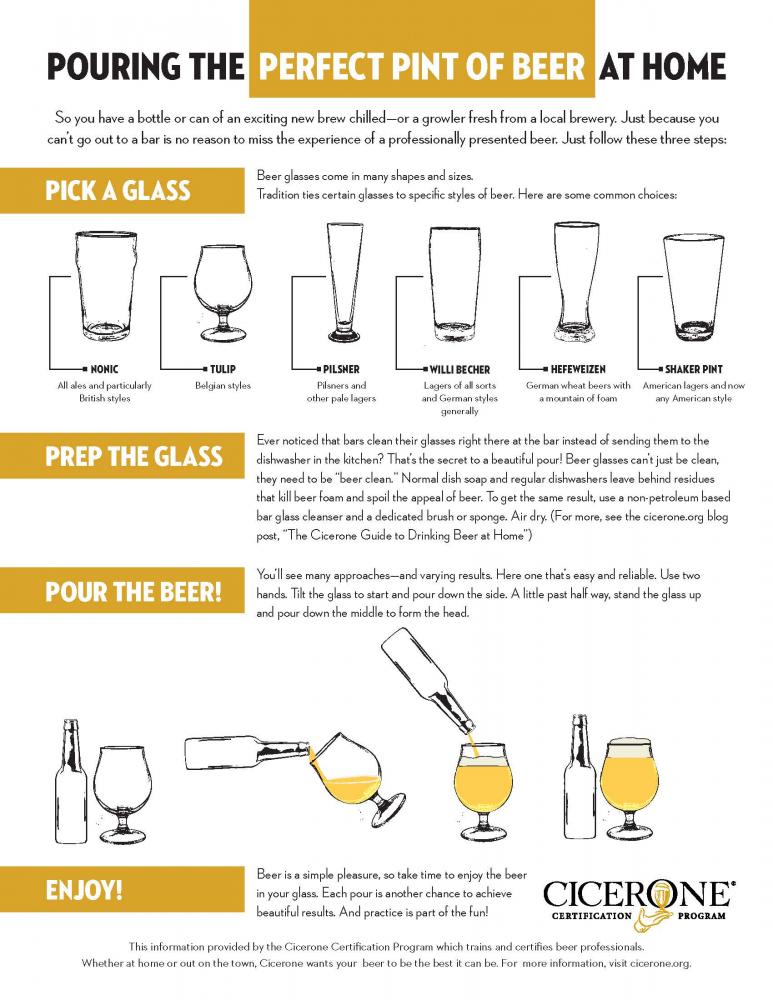 Focus on glassware. This can have one of the biggest impacts on your beer-drinking experience. Here's some key things to keep in mind:
Use it! Pouring beer into your favorite glass allows you to enjoy all aspects of your beer. Admire how it looks. Doesn't the sound of it pouring into the glass make your mouth water? Stick your nose in there and take a big whiff. You can't get that kind of aroma through the opening of a bottle or can. 
Clean it! A beer clean glass is both free of soil and free of oil. The soil is the obvious part. It's the oil that gets tricky. Oily or fatty residue on glassware can affect the quality of your beer, in part by hurting foam formation and head retention.
If you follow some simple steps, you can be sure your glasses are beer clean:
First, clean your glasses by hand with a soft brush. Your dishwasher can leave foam-killing oils and residues on your glasses. This comes from dirty dishes in the machine, oil-based dishwasher soap, and rinse aids. 
Second, when cleaning by hand, use a detergent designed for cleaning beer glassware. Like dishwasher soap, most household dish soaps contain lanolin or other oils, which can cling to your glasses, preventing them from coming out completely clean. There are a bunch of oil-free detergents out there to choose from. Personally, I use TDC Detergent from National Chemicals Inc. It's pretty widely available and comes in both liquid and powder form.
Third, let your glasses air-dry. Drying with a towel can put lint or even unseen oils into your glass.
Pay attention to date codes. A lot of us may be dipping into some beers we've been sitting on for a while. While some of those beers in your cellar might be fine past their date codes, others may not. Here's some guidance:
Know the signs of age. The first thing that happens is hop aromas will drop off. Then, malt flavors can start to change, turning into flavors like honey, almond, sherry, prunes, and raisins. As age progresses, many beers take on an unpleasant aroma and flavor of paper or cardboard (this is a compound called trans-2-nonenal). It's important to note that keeping beer refrigerated slows these flavor changes considerably. 
Know what beers are more likely to age well. High-alcohol, full-bodied beers with robust malt character are more likely to age well. Barleywines and Imperial Stouts are some classic examples. The big malt flavors on display in these beers can show off some of the more positive malt-shift characteristics mentioned above, while minimizing the more undesirable aromas and flavors. Other beers that can age well are those with active wild yeast, like Brettanomyces. These beers can continue to ferment slowly, over a long period of time, keeping a lot of unpleasant aging characteristics at bay. Other beers, like the Pilsner or American Lager beer you've been sitting on for a year? It probably isn't any good.
Decant the beer from the yeast in bottle-conditioned beers. That yeast sediment at the bottom of a bottle probably helped keep that beer fresher longer, by taking up oxygen that would've otherwise led to premature staling. But if you sit on the beer long enough, those yeast cells will die, releasing a meaty, soy sauce flavor into the beer. Not pouring old yeast into your beer can help minimize this. 
Let us know what you're enjoying at home—toast one with us on social media!