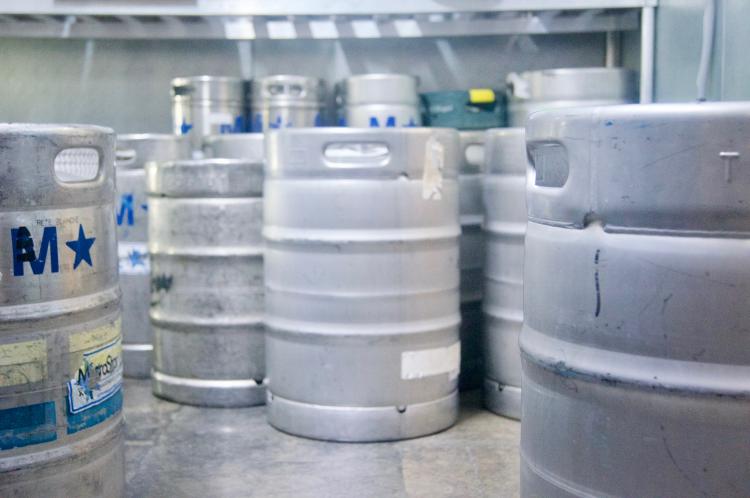 ---
Why Do Kegs Warm Up Faster Than They Cool Down?
---
Recently, I ran across this question online:
In learning about draft systems, we're told that after just a few hours in a delivery truck a keg—that was at 38 °F in the warehouse—will require 24 hours to return to that temperature after delivered. This makes me wonder, why do kegs warm up faster than they cool down?
If you only look at one side of things this whole situation is confounding. We take a keg out of a 38 °F cooler for six hours and it warms up to 58 °F. When we put it back in a 38 °F cooler, it seems logical to conclude that it would only take six hours to cool back down again. But that is not the case.
The difference comes in the conditions the kegs are exposed to and a little thing called "delta T."  The phrase "delta T," written "∆T" for short, simply means the difference in temperature between the keg and its environment. (The "delta" means difference and the "T" stands for temperature.)
It is a basic property of our universe that the temperature of an object changes faster when there is a big temperature difference between the object and its environment. This is a principle we take advantage of every time we throw a beer in the freezer to cool it off quickly.
Thus a big difference between keg and environment equals fast temperature change. A smaller difference between keg and environment will give a slower temperature change.
When we put a 38 °F keg in a 78 °F environment in the back of a truck, there is a big difference between the keg temp and the environment, 40 °F to be exact. (∆T = 78° - 38° or 40°) When a large temperature differential exists, there will initially be a rapid change in temperature. So in just a few hours, that keg can warm up by 20 degrees.
When we put that now 58 °F keg in a 38 °F cooler, the difference in temperature is smaller: only 20 °F. (∆T = 58° - 38° or 20°) Thus it will take longer to get the keg cooled back to 38 °F.
You can see this graphically in the charts shown below. Both charts use the exact same curve: one plotted for heating, one plotted for cooling, both in the range from 78 to 38 degrees. The difference comes in what part of the curve we are on at each step. (Note: this is only an example–actual cooling differs based on keg size, air flow, and other factors.)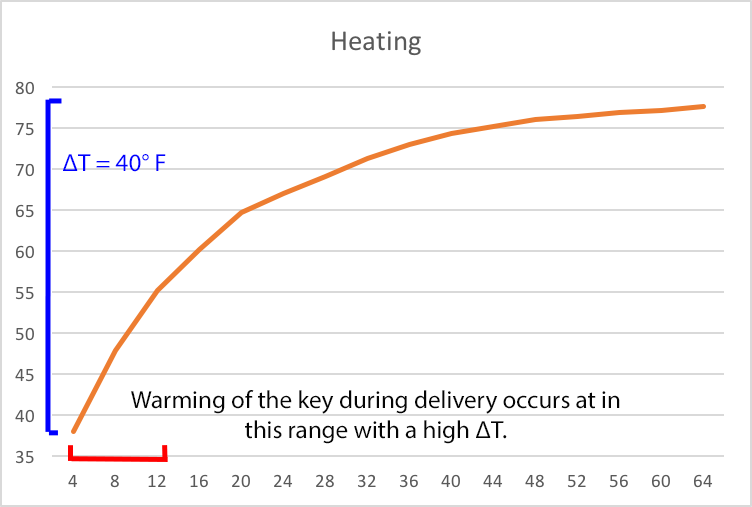 Figure 1 (Heating) shows how a 38 °F keg warms up when stored at 78 °F. Because of the large difference in temperature between keg and environment, there is a rapid temperature change in the first few hours. In this case, we are working at the left end of the curve where big changes happen quickly.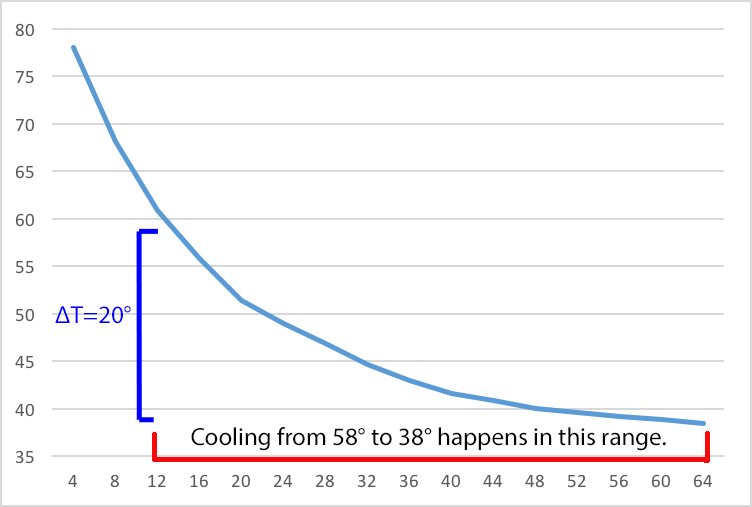 Figure 2 shows the behavior of a 58 °F keg in a 38 °F cooler. Here we are working at the right end of the curve where changes take place slowly.
Note that if we were to put a 78 °F keg in the cooler, it would initially change temperature quickly.
But regardless of where we start, the closer the keg temperature gets to the cooler temperature, the more slowly the keg temperature changes. Thus, in any situation, you will see that cooling that keg those last ten degrees is the slowest part of the process. 
All of this explains why we need to put kegs in the cooler for 24 hours before we put them on tap. Even a keg that is still cold to the touch when it arrives has warmed up during transit. Under those circumstances it will not pour well, giving lots of foam. That full day of sitting in the cooler is simply what it takes for the keg to drop those last few degrees back to 38 °F so that it will pour properly when you put it on for service.