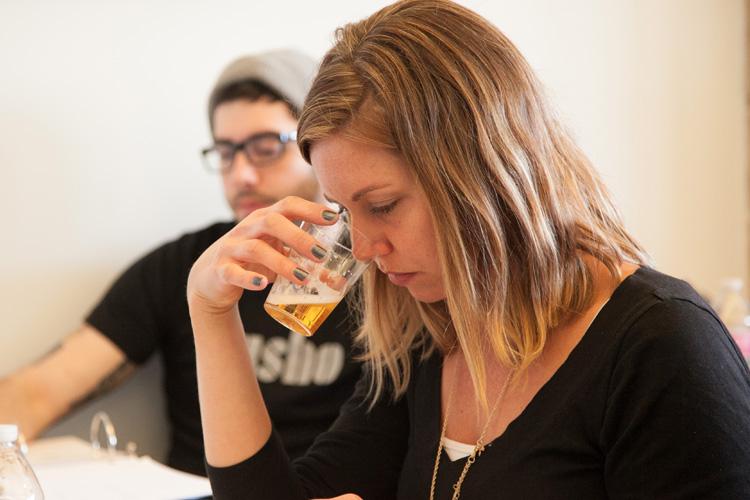 ---
Why Pour Beer into a Glass?
---

Excerpted from The Cicerone® Certifications Program's Introduction to Beer eBook
When you put beer in a glass, it reveals much more of the beer and enhances the overall sensory experience. For starters, you can see the beer: its color and clarity, as well as the foam head that forms. As an additional benefit, when you pour the beer into a glass, some of the carbonation is lost so that the beer will contain less gas when consumed.
But flavor provides the most important reason to pour beer into a glass. With the beer in a glass, you have easy access to the aroma and can smell the beer even before you take it into your mouth. This has a significant effect on your sensory experience—so much so that some brewers carefully select the glass their beer is served in and will not accept any alternatives. Indeed, experienced tasters often describe different flavors when served the same beer in different glasses.
When a glass is selected for a beer, two factors come into play: size and shape. For routine servings of draft beer, the glass size you choose most often depends on alcohol content. While many "everyday" beer glasses hold about a half-liter or US pint, responsible alcohol service suggests that stronger beers should not be served in those glasses. In Belgium where many beers contain 6% to 10% ABV, you'll find a range of smaller beer serving glasses. Servings ranging between 10 - 6 oz (300 ml - 175 ml) allow for responsible service of stronger beers.
The foam or head associated with some beer styles also influences glass size. The tall glasses used for German hefeweizens typically accommodate several inches of head when filled with a half-liter of beer. On the other hand, British pint glasses often leave space for less than two centimeters (one inch) of head on each serving. Thus beer glassware for different styles often takes head formation and size into account. If you'd like to learn more about which glasses go with which styles, check out the Cicerone Beer Glassware Guide poster.
Once a glass has been selected for the beer, it must be properly prepared before the beer is added. While consumers don't need to be concerned about these details, you should be aware that retailers who don't take care in these steps may present you with a beer that doesn't look as it should.
Generally when you are served a beautiful, great tasting beer, you don't think a lot about it. You sit back, enjoy your beer, and have a good time. Bars and restaurants that care about great beer service take time to train their staff, maintain their equipment, and manage their beer so that every serving of beer will make the customer want to stay for another round.
---
To read more, purchase your copy of Introduction to Beer today!