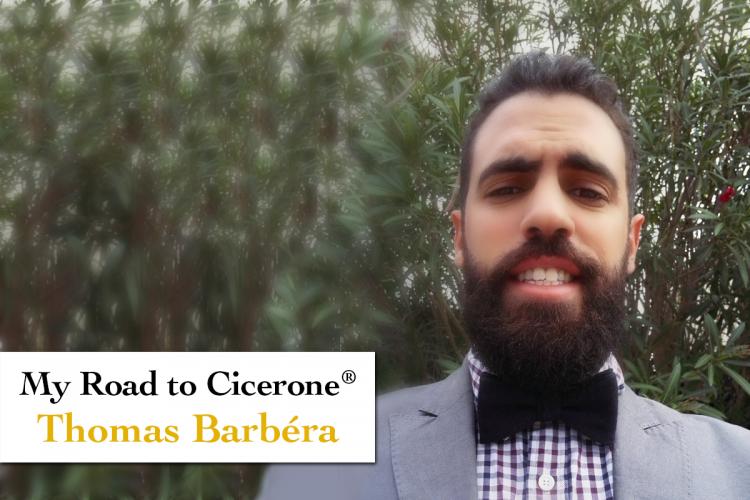 ---
My Road to Cicerone®: Thomas Barbéra of Happy Beer Time
---
Thomas Barbéra is a Certified Cicerone® from Montpellier, France. Here he shares his experience getting into the beer world, passing the Certified Cicerone exam, and not being able to turn back!
Where do you work now and what do you do there?


I am back in France now after living in Canada and the UK, where I was running a little gem of craft beer bar called The Other Room, in the heart of Bermondsey. For those who do not know this area of London, it's like the Brooklyn of London. It became a really famous beer spot due to the "Bermondsey Beer Mile," featuring seven of the UK's most popular craft breweries along the railway. Make a stop there if you have a chance to stay in London for a few days! Since I've been back in France, I have been giving brewing courses, running food and beer pairing nights, and keeping our

craft beer blog

alive, where everything started for me.

What industry were you working in when you started preparing for the Certified Cicerone exam? 


When I started studying for the Cicerone exam, I was a web-marketing expert specializing in e-commerce, SEO, and community management. It is also the reason why I launched a beer webzine a few years ago--I wanted to have my own toy to play with acquiring traffic and creating a community. Unfortunately, the beer world was too fascinating and I couldn't stop writing and learning about beer. Put a toe into the beer world and you can't take a step back.

How did you first hear of the Cicerone Certification Program?


A friend of mine first told me about Cicerone certification. In France, we don't have anything currently to validate beer skills, so it was obvious for me to pursue this certification. I moved to North America to live in Toronto and Vancouver for a year. Then, my end goal was to pass the Certified Cicerone exam.

Why did you choose to pursue Cicerone certification? 


My primary motivation to pursue Cicerone certification was to put myself into a learning process. It is the same thing if you decide to run a marathon--you won't reach this level if you don't decide to challenge yourself! For me, aiming for the Certified Cicerone exam was the best way to challenge myself in order to learn a lot about beer. My second motivation was to validate some skills in order to pursue a beer career.

Explain how earning your certification helped you break into the beer industry.


It is definitely helpful when you send a company your CV with Cicerone certification on it. I have also been in the employer's position and you see so many resumes that you would put the Cicerone ones right to the top of the pile. I don't think the owners of The Other Room would have given me keys to their brand-new business if I were not a Certified Cicerone.

Describe your study process. How did you prepare for the exam?
In order to acquire the knowledge I needed for the exam, I read a lot of books. The first book I studied was a French one, which is just fantastic. It is called Les Saveurs Gastronomiques de la bière by David Lévesque Gendron and Martin Thibault, two beer writers from Quebec. This book was selected as Best Beer Book in the World in 2013 at the Gourmand World Cookbook Awards. I definitely think it is the best book I have read so far. After that, I studied in English with Tasting Beer by Randy Mosher and then I read the great brewing book by John Palmer, How to Brew.

To study for the tasting exam, I would say it's everyday training when you go into a bar. The main thing to do is to never get a pint. I was ordering beer flights as often as possible to taste more samples. To learn off flavors, I decided to make a homemade off-flavor kit. I am sure it was not as good as the official ones but it worked for me and I passed the tasting exam on my first attempt. To be honest, I think it was also because I tried to taste as many things as I could for a year before the exam. You can definitely replicate some off flavors easily like acetic acid with few drops of white vinegar, for example.

Were there any areas of study that you became particularly interested in while preparing for the Certified Cicerone exam?


Certainly food and beer pairing! I think that's what I love the most about beer. But the most complicated thing to study for someone who never worked in beer before was certainly beer dispense. It was my main weakness, but also a topic I was really keen to study, as I knew I really needed to learn this stuff to get into the beer world. And you usually can't just find this kind of information in beer books, blogs, or forums.

What are your greatest strengths now that you're a Certified Cicerone?


I can easily see what is going to work or not when I run a beer dinner. Obviously there is no exact science when talking about beer and food, but I am feeling quite comfortable in building amazing pairings. 

Another thing I really enjoy is that I now have a better understanding of beer styles. I can now talk about Ordinary Bitter, Scottish Light, or Kölsch as easily as I would an IPA or a stout. Even more than that, I also enjoy simplicity in beer more than I did before. I would rather enjoy a perfectly balanced Czech Pilsner before a heavy Imperial Stout.

In your opinion, how valuable is it for those looking to get into the beer industry to earn Cicerone certification?


The main value of the Cicerone certification is not just the certification itself but also the knowledge you will acquire! Knowledge is the most important thing, and even though you technically do not need this exam to learn, it helps a lot to have a studying layer, to get motivated to read, taste new beer-styles, and do everything you need to achieve your goal: becoming a Certified Cicerone.

What advice do you have for Certified Beer Servers who are looking into taking the Certified Cicerone exam?


Pick a date 6 to 8 months from now on the exam schedule, select it, and go for it! Do not hesitate! I think you need to have this goal to focus your studies. Of course it helps if you can do that with a couple of friends. It's even better as you can taste beer, make beer together, and share your knowledge. Then you don't have to bother your other friends with your studies! If everything seems possible in the beer world, it is because it has been built on sharing and friendliness. So if you put these two ingredients into your recipe, I am sure it is going to work for you.
Ready to get started? Learn more about the Certified Cicerone exam here!