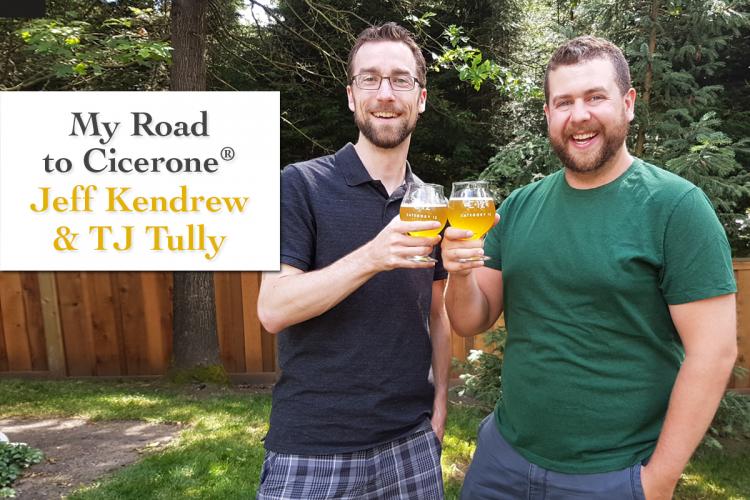 ---
My Road to Cicerone®: Jeff Kendrew and TJ Tully of Category 12 Brewing
---
Jeff Kendrew and TJ Tully are the only two full-time outside sales employees for Category 12 Brewing, located near Victoria, British Columbia, and have both earned the title of Certified Cicerone®. Jeff is a seven-year veteran of the industry who used his certification to move from sales representative to sales manager. TJ utilized his skills to pass the exam in order to prove he had the knowledge and passion to get into the beer industry.
Where do you work and what do you do there?
Jeff: I work for Category 12 Brewing in beautiful Victoria, British Columbia, Canada and I am the Sales Manager for the brewery.
TJ: I am the Sales Rep in Vancouver, BC for Category 12. Our brewery is located on Vancouver Island and I am the first 'off-island' employee.
How did you first hear of the Cicerone Certification Program?
Jeff: It was so new in Canada and especially Western Canada in 2013, it popped up out of good old internet searching for me!
TJ: While working in a different industry, I was having no luck landing an interview for local craft beer sales jobs. I knew I had the sales experience and the passion to do the job, however I was having trouble getting my foot in the door. I started volunteering at local beer events and education classes to get to know people in the industry, and the one tip that everyone passed on was to look up the Cicerone Certification Program.
Why did you choose to pursue Certified Cicerone while already working in the beer industry?
Jeff: I was searching for a way to legitimize my passion and knowledge for beer as I was speaking at many events and beer dinners. I felt that people wouldn't trust me because I was just a Territory Manager that worked for a brewery. Maybe I would be assumed as "just a sales guy."
TJ: Once I had passed the Certified Beer Server exam, I landed a part-time job leading brewery tours for Canadian Craft Tours. Every time someone on a tour asked a question I didn't know, I would look it up, and I quickly realized that most of the knowledge I was missing was covered in the recommended study material for the Certified Cicerone exam. I wanted to gain that knowledge and then pass the exam to prove it.
What was your study support network like? Did you receive support from a study group, your employer, or study solo?
Jeff: A group of about 10 of us studied together and we often called on industry people around us to help teach us about the various topics in the syllabus. We called on a head brewer and a draught line cleaning company specifically to help teach us areas of the syllabus. This helped a tonne. Plus, we got to share beer costs as well!
TJ: Most of my studying was solo. I did take a course that Brendan Grills (another Certified Cicerone) ran out of Faculty Brewing in Vancouver, which covered the beer styles and tasting portion of the exam. This was perfect, as trying the variety of beers (including an off-flavor kit) solo would have been incredibly challenging.
Describe your study process. How did you prepare for the exam?
Jeff: In the final two months, I really focused in. I ate cheeses, I did blind taste tests, I thumbed through The Oxford Companion to Beer… and I checked off all the topics in that syllabus!
TJ: I read more than I've ever read in my life! I read Tasting Beer and How to Brew cover to cover twice. I also spent a lot of time with the BJCP Style Guidelines and the Draught Quality Manual. For tasting, I attended monthly BJCP classes led by Certified Cicerone Dave Shea.
Explain how earning your certification has helped your career.
Jeff: Getting my Cicerone Certification has drawn a lot of attention to me in my local market and propelled me in front of others for more exciting beer jobs! It helped put me at the front of the line when Category 12 co-founder Michael Kuzyk was looking for a Sales Manager before they opened their brewery. I moved from a salesperson role to a Sales Manager for a new startup that is now making waves in our regional marketplace. This is a role that would have been highly sought after.
TJ: I won't speculate that Category 12 wouldn't have hired me without the certification, but there is no arguing it made their decision easier. When Jeff revealed that he was a Certified Cicerone prior to one of the interviews, I knew I had a great shot at the job.
What are your greatest strengths now that you're a Certified Cicerone?
Jeff: I am an outgoing salesperson that can be the face of a company while also being able to converse at the level of a brewer or a beer geek. This makes me incredibly multifaceted in the beer business.
TJ: The most successful sales reps gain the trust of their customers and never let them down. By putting my personal stamp on every beer that I sell, I am certifying that I support that beer and that it stands up to the strict standards I would expect of any beer I purchased for myself.
Were there any areas of study that you became particularly interested in while preparing for the Certified Cicerone exam?
Jeff: I probably had the least amount of knowledge about beer & food pairings when I started the program. The Cicerone program completely opened my eyes to the culinary world… I am continually learning and discovering amazing food all the time!
TJ: Learning how to brew! After a few failed attempts at home brewing 10 years ago with friends, I was really turned off on the idea. However, after reading How to Brew, I finally learned what (dozen) mistakes we were making. I started brewing again with my brother-in-law, and we've made some pretty decent beer if I may say so myself!
Why do you think your employer prefers to hire Certified Cicerones?
Jeff: Category 12 Brewing is all about beer science. Our co-founder and head brewer Michael has a PhD in Microbiology and Biochemistry, so he clearly values education. We want to be a leader in our region for beer knowledge, creativity, and legitimacy. Having our sales team certified is unparalleled in our marketplace.
TJ: As a science-themed brewery, the spreading of beer education ties in directly with our branding. With Certified Cicerones working for Category 12, we can back up that branding with genuine knowledge of the beer we are selling. Education is prevalent all the way through our company. For example, we were the first commercial brewery (to our knowledge) to put the stat "total acidity" on our sours, which I hope becomes an industry standard!
In your opinion, how valuable is it for those looking to boost their career to earn Cicerone certification?
Jeff: Incredibly valuable! Sure, you could boost your career in many ways, but if you want to show that you are serious about beer, this is the way to do it.
TJ: Extremely valuable! If you are on the outside looking in, like I once was, this is a great equalizer to show that you aren't just another person who likes drinking beer.
What advice do you have for Certified Beer Servers who are looking into taking the Certified Cicerone exam?
Jeff: Follow. That. Syllabus. Too often I talk to people when they are studying for their Certified Cicerone exam and they are either over-studying a section or are straying too far from what they need to know.
TJ: Start studying now! Download and print the Cicerone Program Resources Overview and start checking off the required reading as soon as you can. Then do your best to try a couple beers from as many BJCP styles as you can get in your region. That's the fun part!
Ready to get started? Learn more about the Certified Cicerone exam here!