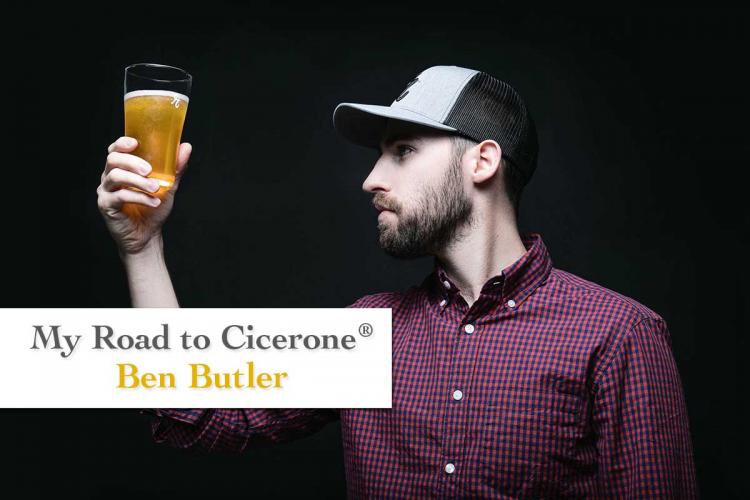 ---
My Road to Cicerone®: Ben Butler of Top Hat
---
Ben Butler is a Certified Cicerone from Pittsburgh, PA. Here explains how becoming a Certified Cicerone has informed his business for his beer industry clients.
1. What's your current role and how does being a Certified Cicerone help you with it?
I'm the founder of Top Hat, a creative agency with offices in Pittsburgh and St. Petersburg, Florida. We've worked with just about any type of business imaginable, but have really developed a strong niche in beer. To quantify that, we've designed 150 unique beers across 300-plus total SKUs for 5 regional breweries in the last 3 years alone. 
Being an in-house Certified Cicerone® for our agency is a core part of my day-to-day. With our national clientele, and their fast-paced production deadlines, we don't get to taste every single beer before designing it. So I'm there to make sure I can translate what the product should taste like based on style-designation, ingredients, and talking to the brewer.
All of this makes our work more intentional, and most importantly, more aligned with the liquid. 
Describe the factors that made you decide to become a Certified Cicerone.
In my role, I seek to understand our client's businesses as well as they do. It helps me inform spending decisions, strategic recommendations, and ultimately helps make sure our team is aligning the branding with the product. 
Beer is a business driven by deep historical implications and even deeper technical components. I quickly realized that to align myself more closely—and more credibly—with those in the beer industry, I had to pursue becoming a Certified Cicerone. There just wasn't any other way to do it in my mind. 
Explain some of the challenges you had while studying for the exam, and how did you overcome them?
As I'm sure most people quickly realize, it's just so much information to grapple with. You need to comfortably wield facts and figures, but you also need to just as comfortably master hands-on skills like tasting, pouring, and even managing draft systems.
For me, I just ate the elephant one bite at a time. I'm someone who thinks in compartments and draws the connections between them as I continue learning. I focused on one segment at a time from history to process to styles to draft systems to beer & food pairing.
How did you prepare for the exam? What were the most beneficial resources that you used?
I hit preparation on all fronts with reading, activities, online practice exams, taste testing, and dialoguing with industry colleagues. 
From the Cicerone resources: I ordered the style flash cards, all six Road to Cicerone books and online quizzes, and the off-flavor training course. 
Other resources included: Tasting Beer by Randy Mosher, The Brewmaster's Table by Garrett Oliver, and the BJCP 2015 guidelines mobile app. 
One of the most important, and most beneficial, resources was my favorite local bottle shop: Hal's Bottle Shop in Pittsburgh. Every week I'd go in and build myself a couple of six packs ranging the spectrum of beers according to the BJCP style guidelines. 
Making those taste-bud-to-brain synaptic connections brought everything full circle and helped me to ace the tasting portion of the exam especially.
Since becoming a Certified Cicerone, what have been some of your greatest achievements?
The designation has given myself and our agency even more momentum. When I'm talking to prospective breweries, they're often pleasantly surprised I have the designation. Almost every new business win in the space has cited my designation as something they found differentiating and especially appreciated. 
Beyond that, I find myself being invited to write more guest posts for publications, taste test more beers for our clients, and even collaborate with our clients to create new beers. We have an upcoming collaboration coming out most likely in fall 2020 that we're pretty excited about.
In your opinion, how valuable is Cicerone certification for those looking to boost their career?
Whether you're the manager of a taproom, bottle shop, or involved at any capacity with a brewery, it's going to be a game changer. Your colleagues will trust you a lot more and take you more seriously. And most importantly, you'll achieve a new depth of information and best practices and ignite a unquenchable thirst to learn more. 
What's your top study tip for anyone preparing for the Certified Cicerone exam?
It's important to dive into the reading material. But it's equally—if not more—important to follow every piece of reading up with beer taste testing. Be sure to have a place where you can find most of the BJCP beer styles, and to establish credible resources you can talk about this stuff with. 
This is the most fun subject matter in the world, so enjoy the process! 
Ready to get started? Learn more about the Certified Cicerone exam here!