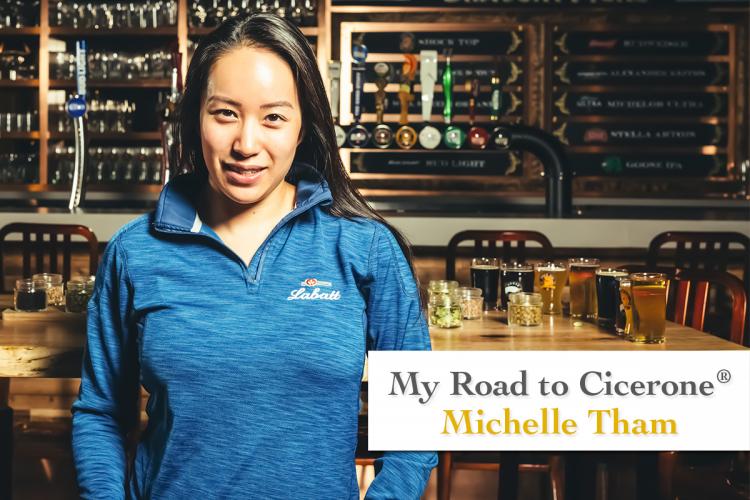 ---
My Road to Cicerone®: Michelle Tham of Labatt Brewing Company
---
Michelle Tham is a Certified Cicerone® from Toronto, Ontario. Here she shares how becoming a Certified Cicerone has helped her further her beer industry career and become a better beer educator.
Where do you work now and what do you do there?
As the Head of Education at Labatt Breweries of Canada, based in Toronto, Ontario, my role is to build a culture of beer education and appreciation in Canada through our people and our diverse portfolio of brands and breweries. I have the unique opportunity and resources in this role to help grow the overall beer category in Canada through beer education. 

We know that in Canada, there is a huge appetite to learn more about beer. According to Google Insights, Canadians search more about beer than any other country in the world. This shows we're on the right track to building a culture where Canadians appreciate beer and expect expertise from those that sell and serve their beer. Through my travels across the country, I'm privileged to interact with amazing people who brew, serve, and appreciate beer. I am proud to play a role in educating Canadians to beer better every day.

What industry were you working in when you started preparing for the Certified Cicerone exam? 
Prior to becoming a Certified Cicerone, I worked as a restaurant and beverage manager in the hospitality industry. Responsible for the design and operations of the overall beverage program, I had strong foundational knowledge of beer, wine, and spirits. As much as I enjoyed delivering a great guest experience through a beverage menu and its execution, I always had an affinity for beer and wanted to make a greater impact on the way people think about beer.
Why did you choose to pursue Cicerone certification? 
I pursued my certification in 2013 when there weren't many Certified Cicerones yet in Canada. I realized timing and opportunity were on my side to make a difference in the beer community and contribute a unique perspective as a woman and beverage professional. But I knew in order to do that, I needed the knowledge and credibility that only a professional certification could provide.

Being a Certified Cicerone is validation of the hard work I put into learning more about the category – knowledge that I now apply in my everyday job as an educator. This certification has allowed me to do exactly what I set out to five years ago by giving me the credibility to share my perspective and to encourage Canadians to think about beer with an open mind, to explore and appreciate flavour, and appreciate beer's heritage and complexity.

Explain how earning your certification helped you break into the beer industry.
My intent in pursuing the certification was always to share that knowledge with others. While I could have continued to apply my knowledge as a restaurant manager, I understood the limitations of my reach in that capacity. 

I saw an opportunity to leverage my accreditation with Labatt – a brewer that was intent to grow the high-end market, a specialty area where trends are established and credibility is a crucial advantage. I'm confident that my certification set me apart from other candidates when I pursued a role as a Specialty Portfolio Manager at Labatt. In 2014, I was the first Certified Cicerone hired at Labatt and I'm proud to say that we now have 19 Certified Cicerones across the country, more than any other brewer in Canada.

Describe your study process. How did you prepare for the exam?
I equate preparing for the exam like a sports team getting ready for a big game. It requires training, discipline, teamwork, and mentorship. I prepared for the exam with a group led by a coach who had experience taking the exam. It was valuable to have a coach and mentor, people to keep me motivated and focused. I also appreciated studying with a diverse group as each of us possessed expertise in different areas. We were a motley crew of chef, homebrewer, retailer, sales representative, and beer enthusiast. Having that diversity allowed us to leverage one another's expertise, rounding out our base of knowledge.
Were there any areas of study that you became particularly interested in while preparing for the Certified Cicerone exam?
My favourite area of the syllabus was and continues to be beer styles and the content of the BJCP Style Guidelines. It was a real "a-ha!" moment for me in the early days of studying beer to understand that if we evaluate beer outside of our personal preferences, the merit of all beers can be measured on a level playing field in their adherence or interpretation to their style parameters. The idea that we have guidelines removes the bias that stands in the way of respecting well-made beers, whether or not it's our personal beer of choice. Every beer style comes from a place of tradition, heritage, and brewing complexity and the BJCP encapsulates all of that diversity. Mastering beer styles demands both knowledge and skill from both a theoretical and practical tasting perspective, and that's a real measure of credibility in a Cicerone.

 

What are your greatest strengths now that you're a Certified Cicerone?
I believe my strength as a storyteller is where my knowledge and enthusiasm for beer are brought to life. It strengthens the impact I make as a beer educator and as an ambassador for our brands. Being a Certified Cicerone has given me both confidence and credibility to the way I communicate about beer with my peers and with those that I educate. My knowledge gives my storytelling truth, but my certification gives it validity.
In your opinion, how valuable is it for those looking to get into the beer industry to earn Cicerone certification?
In my opinion, the level of knowledge required to become a Certified Beer Server should be the minimum level of knowledge for anyone who enters the beer industry. A fundamental understanding about clean glassware, proper draught pouring, and beer styles should be the standard for anyone who intends to sell and serve beer. To a prospective employer, a Cicerone certification validates that you possess an expert level of beer knowledge.
What advice do you have for Certified Beer Servers who are looking into taking the Certified Cicerone exam?
I encourage anyone pursuing the Certified Cicerone to approach it with a 'learning-first' mentality and not race to the finish line. Recognize that "I need to know it for the exam" will never be as valuable "I want to learn this, so I can understand and share it." 

If you can take what you've studied, communicate it in your own words, and teach someone else – it's a good sign that you fully understand the concept and are prepared to represent yourself as a Cicerone. Memorizing and reciting vital statistics off the BJCP Guidelines may sound intelligent, but are you contributing to the beer community in a thoughtful way? I feel strongly that a Certified Cicerone should be able to take their knowledge and share it in ways that are relevant and meaningful to their peers, consumers, and the beer community.

 
Ready to get started? Learn more about the Certified Cicerone exam here!