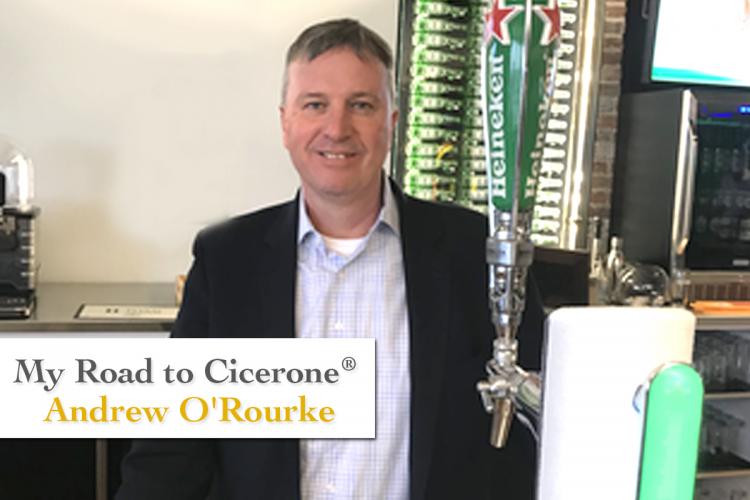 ---
My Road to Cicerone®: Andrew O'Rourke of Heineken USA
---
Andrew O'Rourke is a Certified Cicerone® who currently works for Heineken USA. Here he describes how the path to achieving Cicerone certification is just as important as the final goal. 
Where do you work and what do you do there?
Currently, I work for Heineken USA as the National Sales Director of the Casual Dining channel. I have been with Heineken USA for 11 years. I started my career in the beer industry joining Guinness Ireland straight out of University College Dublin, where I graduated with a Master's degree in Economics. Along the way I have also worked for Guinness in California, Southern Wines and Spirits in California, Dock St Brewery in Philadelphia, The Gambrinus Company in San Antonio Texas, and Inbev USA in Washington DC.
How did you first hear of the Cicerone Certification Program?
I've known about the program since its inception and am impressed by its incredible growth as the beer industry standard of certification in not only the USA, but also internationally. I believe the Cicerone Program's thorough curriculum elevates the beer industry and is an effective way to educate and improve.
Why did you choose to pursue Certified Cicerone while already working in the beer industry?
I pursued Cicerone Certification as both a journey to expand my overall beer knowledge and validate my learnings and experience in this great industry. I believe it demonstrates an ambition to learn to improve.
What was your study support network like? Did you receive support from a study group, your employer, or study solo?
I used the resources offered by the Cicerone organization and found the Road to Cicerone® program very helpful. I travel a lot in my role and used that time to read and study on my iPad. A couple of co-workers had achieved certification and were a resource as to how to organize the effort. My wife was my co-taster in the beer styles and flavor areas—we had a lot of fun competing against each other.

 

 

Describe your study process. How did you prepare for the exam?
I did lots of reading, used flashcards, and conducted beer tastings. I spent a lot of time at my local Buffalo Wild Wings (one of my key customers) tasting beer styles. Randy Mosher and Garrett Oliver's books were my go-to resources along with the Road to Cicerone books and online quizzes. I also homebrewed as a refresher on the process. The program is very comprehensive and requires a significant time commitment.

 

Explain how earning your certification has helped your career.
I think it demonstrates a commitment to have an expert level of beer knowledge. Heineken USA fully supported my studies. I believe it has helped raised my profile, as there are only four Certified Cicerones in the company (as of April 2018).
In your opinion, how valuable is it for those looking to boost their career to earn Cicerone certification?
The Cicerone certification process, starting with the Certified Beer Server level, is now the industry standard for beer knowledge certification. If you're serious about a career in the industry, I would recommend that you at least achieve this level and hopefully that creates a thirst for Cicerone certification. The craft and import beer suppliers have raised beer knowledge expectations. As such, having certification definitely separates and boosts one's value to any organization in the industry.
Were there any areas of study that you became particularly interested in while preparing for the Certified Cicerone exam?
My biggest area of development was the food and beer pairings. I found the guidelines and flavor affinities in Randy Mosher's Tasting Beer very useful. I am big fan of Asian fusion cuisines and had great fun experimenting with different beer styles.
What advice do you have for Certified Beer Servers who are looking into taking the Certified Cicerone exam?
I would encourage folks to commit to the adventure of learning rather than the pursuit of passing the exam. This should not be like a college course where you simply check the box, but rather an opportunity to build your knowledge and develop a life-long passion. The syllabus is fairly extensive so having a game plan to address each of the various sections is key to success. 
Ready to get started? Learn more about the Certified Cicerone exam here!