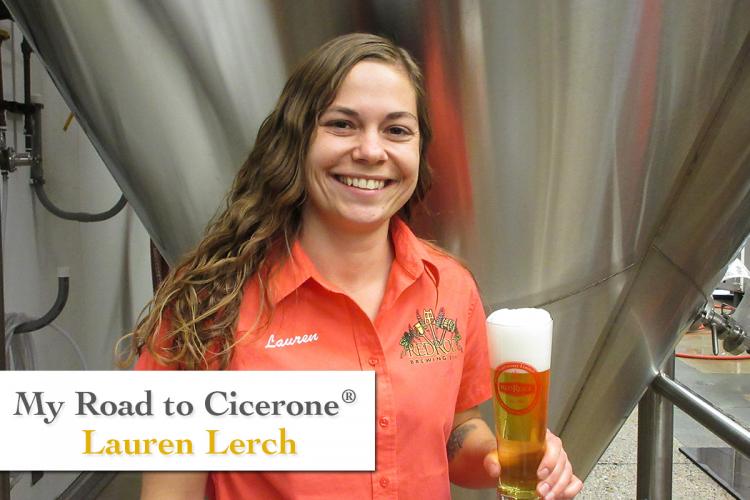 ---
My Road to Cicerone®: Lauren Lerch of Red Rock Brewing Company
---
Lauren Lerch is a Certified Cicerone® from Salt Lake City, Utah. Here she explains how she caught the beer bug and has used her studies to change and grow her career in the beer industry. 
Where do you work and what do you do there?


I work for Red Rock Brewing Company in Salt Lake City, Utah. I execute beer transfers, bottling, kegging, dry hopping, forklift operation, loads of cleaning, barrel program operations, and occasionally assisting in wort production. I am also responsible for inventory tracking, working events, writing beer descriptions for menus at our three restaurant locations, educating our service staff for the Certified Beer Server exam, brewery tours, beer pairings, and blogging bi-weekly at craftybeergirls.com. 

How did you first hear of the Cicerone Certification Program?
While working as a server at Whiskey Street, a cocktail bar and restaurant in downtown Salt Lake, I was exposed to a plethora of booze, and was expected to have at least a base level knowledge of liquor, wine, and beer. While dabbling in the world of beer, I found myself digging deeper and wanting more. Learning that Pilsner Urquell was a lager wasn't enough. I wanted to know why it was a lager, where it was from, what it tasted like, and why it was different from an ale. It was then that a couple co-workers suggested I check out the Cicerone® Certification Program. I bought a copy of Tasting Beer by Randy Mosher, highlighted it like crazy, and took pages upon pages of notes. When I took and passed the Certified Beer Server exam, I was rather surprised. "That's it? It's over?" I began studying for the Certified Cicerone exam immediately. 
Why did you choose to pursue Certified Cicerone while already working in the beer industry? 


Though I served beer at a popular downtown bar, it wasn't enough to satisfy my thirst for knowledge. I wanted to be immersed in an environment dedicated to beer. I knew it would help me study for the Certified Cicerone exam, and keep me on pace to take it a year after passing the Certified Beer Server exam. What better place than a brewery? I serendipitously found a job working in the Red Rock Beer Store through Facebook. My boss at the time knew someone who knew someone, and then I was selling bottles to go while nagging the brewers to tell me about mash rest temperatures and yeast strain tendencies. Though it was a great job, I knew if I wanted to be something more, becoming a Certified Cicerone was my ladder to climb upward. 

What was your study support network like? Did you receive support from a study group, your employer, or study solo? 
Most of my study was self-driven, but my work environment was flush with people who knew the answers to my in depth questions. Red Rock also footed the bill for a couple off flavor kits, which would have been quite pricey for only one person. Working near a brewing environment gave me plenty of opportunities to properly identify flavors and why they were or weren't appropriate for a given beer. I owe it to my co-workers for guiding me and giving me solid explanations for my incessant flood of questions. If you see them, buy them a beer! 


I didn't have a study group, but I did have access to people who knew what I wanted to know. I remember sitting down with Jack Kern of EPIC Brewing (now of Proper Brewing), who was only one of a small handful of Certified Cicerones in Utah at the time. He gave me a few tips and a bit of guidance, but I was most impressed by the way he talked about beer. It wasn't the terminology or the topic, but the way he spoke that showed beer wasn't just a pastime or job for him, it was a lifestyle. You couldn't smack the grin off his face if you tried. I knew I had the same drive, and I wanted the same thing for myself. If anything, our meeting taught me I was on the right track. I had to become a Certified Cicerone. 

Describe your study process. How did you prepare for the exam? 


I decided a year would be ample time to study for the exam. My study was relatively casual at first. I began reading some of the recommended books for Certified Cicerone study. I was highlighting pages and making a bazillion note cards on anything that looked important. Before too long, I realized my range of focus was far too wide, and I was beginning to learn certain topics more in depth than was needed for the Certified Cicerone exam. While it's never a bad thing to learn more about beer, it was keeping me from spending time learning other topics that were crucial to passing the exam. 

I decided it was necessary to create a study timeline, or I'd never cover everything in the timeframe I wanted.
I would study 3-5 beer styles per week, as well as material from the other areas of focus. Each time I studied a style, I would type up every bit of information I could find under each respective style name in a document I created. I pulled information from the BJCP style guidelines, books, reputable websites, magazine articles, and even podcasts. It was working well, but I couldn't help but feel a bit lost as to if my depth of study was sufficient. Two months before taking the exam, a friend told me about The Beer Scholar Study Guide by Chris Cohen. This guide completely changed my study game, and it's what I give credit to for having passed the exam on the first try. My only regret is not coming across it sooner. 
Explain how earning your certification has helped your career. 
Becoming a Certified Cicerone has helped me receive recognition I may not have been able to gain without it. As a woman in the beer industry, it's not always easy to convince people I know beer well enough to have an intelligent conversation with them about it. With the Certified Cicerone title, I've usually been able to bypass the awkward assumption of new acquaintances who would take me for a girl who's only at a beer fest to meet cute, bearded brewers. 


Gaining the Certified Cicerone title has opened the door for many other opportunities in the beer industry. I moved from the beer store to the production brewery, began giving beer classes to the public and Red Rock restaurant staff, and have since taken on other job responsibilities. Most recently, it helped me earn a travel scholarship through the Pink Boots Society, a society for women working in the beer industry, to go on a ten-day "Beer, Brats, and Beyond" tour through southern Germany to experience beer culture and learn from some of Germany's top brewers and industry professionals first hand. 

What are your greatest strengths now that you're a Certified Cicerone? 


One of my greatest strengths as a Certified Cicerone is that my beer knowledge is well rounded. Knowing the history behind German Weissbier may not help me in the brewery, but it helps me network with other beer industry people, and gives me the opportunity to educate restaurant guests or festival-goers. With a bigger knowledge base, I have more tools at my disposal to teach people how amazing beer is. Be it a story about the relation between bock beer and goats, or the way hops can smell like dozens of other plants and fruits, if it helps me turn the switch on in someone's head, then it was worthwhile for me to learn. Being able to share this information with others and show them beer is more than an alcoholic beverage is one of the best things about being a Certified Cicerone. It has made me a stronger educator and an even more engaged learner. 

Were there any areas of study that you became particularly interested in while preparing for the Certified Cicerone exam? 


Learning the stories and history behind beer styles was extremely interesting to me. It gave me context for why a beer style became what it is today, and it continues to be one of the most fascinating aspects of beer as I study for the Advanced Cicerone® exam. 

In your opinion, how valuable is it for those looking to boost their career to earn Cicerone certification?


The value of earning any level of Cicerone certification is entirely dependent upon your personal and/or career goals. If you're trying to boost your career to get a promotion, a raise, or even a new job, gaining a widely recognized title associated with a certain level of beer knowledge is the way to go. The beer industry is competitive, and having some level of Cicerone certification has become a requirement for businesses that take beer education seriously. Knowing more about beer has never been a detriment to my career. While you can study and learn about beer on your own without using the Cicerone Certification Program, it's a huge help to have a syllabus to study from and a certification to represent your knowledge. 

What advice do you have for Certified Beer Servers who are looking into taking the Certified Cicerone exam?


Set goals for yourself and stay structured in your study timeline. The amount of time you spend studying is not directly related to how much you learn. Keep your study time focused and goal oriented to keep yourself on track. Don't assume you know what off flavors taste and smell like. Buy a couple off-flavor kits - three if you can swing it - and stagger them throughout your study timeline. 

If you have the money to purchase a study guide, do it. You'll spend less time looking for study resources and more time studying exactly what you need to know. I highly recommend The Beer Scholar Study Guide. It was worth every single penny. 


Stay positive, study often, and drink every beer like it was your last. Prost!
Ready to get started? Learn more about the Certified Cicerone exam here!