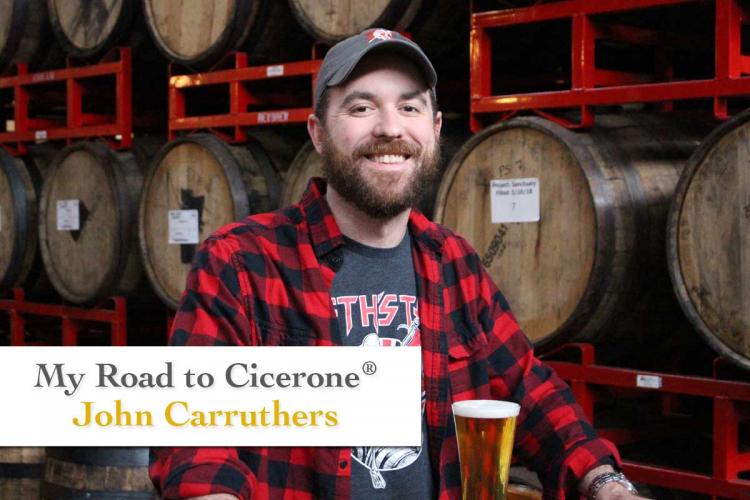 ---
My Road to Cicerone®: John Carruthers of Revolution Brewing
---
John Carruthers is a Certified Cicerone® from Chicago, IL. Here he tells the story of how he followed an interest in beer to Cicerone certification and a job in the industry.
Where do you work now and what do you do there? 


I work for Revolution Brewing as the Communications Manager. My job's got a little bit of everything – writing beer descriptions, creating longform content, doing social media, and keeping our team members in the loop on what's happening around the company. Plus, you know, sourcing the occasional

Tuba Swarm

.

What industry were you working in when you started preparing for the Certified Cicerone exam?


I was working as a writer for the financial firm Morningstar. Before that, I'd been a healthcare journalist and a newspaper reporter. I'd been taking on more freelance beer writing projects, and it seemed like the perfect time to jump fully into the industry. So I pitched a story on getting Cicerone certified, sold it to an editor, and I was on my way. A short 80s movie montage later, I'm working for my favorite hometown brewery. 

How did you first hear of the Cicerone Certification Program? 


Back in 2012, my sister got a job with Fat Bottom Brewing in Nashville. They were paying to send her to a weekly Beer Server prep class, and said that I could tag along when I was visiting one weekend. I got the whole crash course from her instructor Cathy (whose last name eludes me) on what the Cicerone program is, the various levels of certification, and what you need to know about each beer. We slowly tasted through some English ales and discussed the differences. I left thinking it was awesome, but that I was also glad I didn't have to memorize it. I specifically told my sister "that was so fun, and also there's no way I could ever pass that Certified exam she was talking about."

Why did you choose to pursue Cicerone certification? 
I was doing a decent amount of freelance food writing on the side, and it occurred to me that there wasn't nearly as much in-depth beer writing content out there, even after the craft beer boom. It hadn't yet created a million great beer writers in the same way that Food Network had created so many food bloggers. I figured it was an area of opportunity. Plus, you know, big fan of beer. Not long after thinking that, I was invited to attend a Road to Cicerone Bootcamp and pitched my editors on the idea of trying to go from Hopelessly Intimidated to Certified Beer Guy in a year's time. They loved it, and that became my big freelance project. Midway through the second or third day of Bootcamp, I remember thinking for the first time "hey, I can do this!" And I could - but that's a whole story of its own.
Explain how earning your certification helped you break into the beer industry. 
The difference between pitching beer pieces before and after certification was night and day. Editors are overworked and most of them work for non-beer publications and don't have much of a beer background. Having Cicerone certification is a shorthand to them that you're reasonably sure you know what you're talking about. They don't worry that you're going to come back with something impenetrable or unusable, because Cicerone certification is ultimately about conveying what's interesting, fun, and relatable in beer. 
Once I'd passed my exam, published a few pieces, and waded into a few endless Beer Twitter arguments, I had the confidence to apply to a place like Revolution and be confident that I could really add something to what they were doing. Now I've got a fantastic job with a great team. You know that bit at parties where you have to meet people you don't know and make small talk and "so what do you do?" comes up? I absolutely love that part now. None of any of that happens without Cicerone.
Describe your study process. How did you prepare for the exam? 
So, a little backstory - originally, I'd planned to attend the Bootcamp in February and take the exam in November. The general consensus among people I asked was that it was pushing the timeline a bit, but that it was doable. Then my wife and I found out that we were having our second child in August. I remembered what it was like having a newborn - you're basically in a phantom zone outside time and space. No November. But I still needed to make my year's timeline, so … July it was.
Short answer: all-consuming study with a side of panic. Aside from the practice exams and the list of suggested readings, I found the Quizlet app essential for getting my head around the style numbers. I think those numbers are the big stumbling block for a lot of people - and that app was great at helping me track what I knew and didn't know. My cards are still up, and I'd recommend anyone use them to prepare.
Were there any areas of study that you became particularly interested in while preparing for the Certified Cicerone exam? 


As a long-standing mediocre student of chemistry, math, and physics, I was surprised to see how much I loved learning more about draft system design and brewing chemistry. Turns out I just needed the right lens on those subjects. Also, even as someone who has written a ton on food, the food/beer pairing section is no joke. Finding and evolving new and interesting pairings is a challenge I think any beer professional has to work on constantly.

What are your greatest strengths now that you're a Certified Cicerone? 


I'd hope it's relating beer information to people in plain English. I went from "I like beer" to discussing alpha acids and beta-glucans on a pretty accelerated timetable. I'm fully aware of how dizzying (and at worst, insular) the beer world can appear at first. My entire goal is to bring more people under the tent, and that's why the entire Cicerone experience appealed to me in the first place.

In your opinion, how valuable is it for those looking to get into the beer industry to earn Cicerone certification? 


I don't want to oversell it, but I went from not in the industry at all to being one of the public voices of my favorite brewery in about two years. That is just cool as hell. Also, I never have to wear khakis to work now – which is amazing because I despised wearing khakis when I was still on the healthcare beat. Hate khakis? Get Cicerone certified and burn all of yours in a barrel. Send those Bugle Boys to Hell where they belong. Something like that.

What advice do you have for Certified Beer Servers who are looking into taking the Certified Cicerone exam? 


Don't worry about the numbers as much as I did (side note: stop squinting at your phone so much in general). Get deep into the history of the styles, how they relate to each other, and keep tasting. Also, if you're lucky enough to live somewhere that offers a Cicerone off-flavors course, jump on it. I won't guarantee it'll help you knock the tasting out of the park, but I went in with no fear of the tasting on six months of study. Lastly, and most importantly, keep in mind that I am an idiot. If I can do this, you definitely can and should. 
Ready to get started? Learn more about the Certified Cicerone exam here!