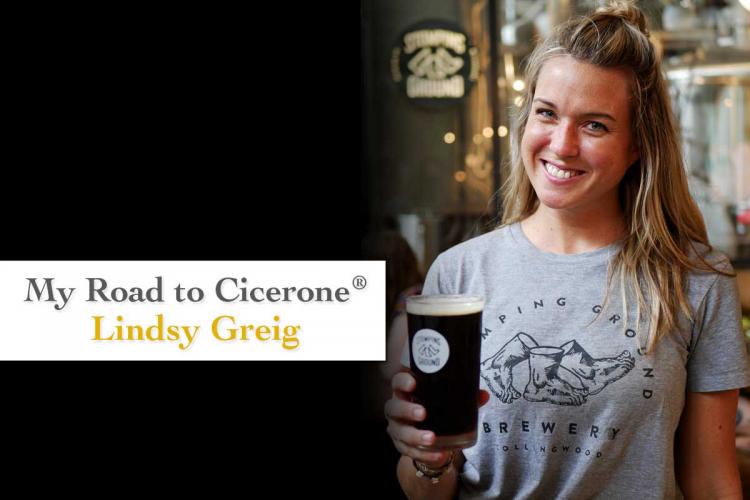 ---
My Road to Cicerone®: Lindsy Greig of Stomping Ground Brewery
---
Lindsy Greig is a Certified Cicerone from Melbourne, Australia. Here she explains how earning Cicerone certification helped her career.
Where do you work and what do you do there?


Currently, I work for Stomping Ground Brewery in Melbourne, Australia. I do a bit of everything within the company--anything they'll let me get my hands in. This includes working in packaging in the brewery (cleaning and filling kegs, filling boxes--all oddly fulfilling), supervising Front of House, hosting "Beer Tables," staff training, and also sometimes doing tastings at bottle shops or working any pop-up bar that we might have at various events around the city. I'm also involved in the Great Australasian Beer SpecTAPular (GABS) which is part of the same umbrella company and is the largest beer festival in the Southern Hemisphere.

How did you first hear of the Cicerone Certification Program?


Despite living in Australia, I am an American and I began working for a small brewery in New Orleans in 2014. I fell absolutely in love with the craft beer industry and knew that I wanted to obtain more training, knowledge, and accreditation. My boss told me about the Cicerone Certification Program and after some research, I was all in.

Why did you choose to pursue Certified Cicerone while already working in the beer industry?


To be honest, I really wanted to get more "street cred." Too many times I would be in tastings or at events and felt like I was very easily dismissed because I was such a newbie in the industry. I interviewed for a job and it was between me and a guy with Cicerone Certification, and he got the job. So I knew I needed it not only for myself, but it also proves that you're serious about the industry AND you've put in the time and effort to achieve the certification.

What was your study support network like? Did you receive support from a study group, your employer, or study solo?


A little bit of everything. I was living in New Zealand before I moved to Australia, and was doing most study on my own, with some friends holding me accountable. I moved to Australia a month before the exam, and was lucky enough to get employment with Stomping Ground. They not only had employees that were going to take the exam but also Certified Cicerones hosting study sessions leading up to the exam so I was able to jump on those and they were SO helpful. I found everyone that was already a Certified Cicerone was so eager and willing to help and answer questions.

Describe your study process. How did you prepare for the exam?


I knew I wanted to take the exam for about a year before I actually signed up and took it. There was always some "loose" study going on, and working for breweries and then managing a craft beer bar in NZ definitely helped. I made my own flashcards, which I found to be the most beneficial. And then the month before the exam, getting in on a study group and doing off-flavor courses and tastings for the two weeks in a row pre-exam is something I definitely recommend to anyone. There was also a lot of last minute cramming and a few sleepless nights.

Explain how earning your certification has helped your career.


The opportunities that I've been given in Australia and New Zealand, I don't think would have come so easy if I didn't have the certification. I was a Certified Beer Server when I moved to NZ, and with their beer industry being quite young at the time, I felt people kind of looked at that and knew I was studying for the Certified Cicerone exam, which rang a bell that just said, "hey, this girl is serious about beer." Moving to Australia, where I didn't personally know anyone in the industry--having that on my resume definitely has opened doors. I've had a lot of incredible opportunities here because I have a strong resume, but in addition to that, it's backed up by having Cicerone certification.

What are your greatest strengths now that you're a Certified Cicerone?


I'd say training and education and really just having the confidence to open up conversations with not only staff and customers, but fellow industry members as well.

Were there any areas of study that you became particularly interested in while preparing for the Certified Cicerone exam?


Food and beer pairing fascinates me and the endless possibilities that are involved in hosting an incredible pairing are something that I'm always working on. Also the history of beer and social aspect of it...it's just great. Learning more about beer is just… great. Such a cool thing to learn about AND to have it benefit your career… very lucky. I realised I'm insatiable when it comes to learning, which is why I'm now studying for the Advanced Cicerone® exam.

In your opinion, how valuable is it for those looking to boost their career to earn Cicerone certification?


Extremely valuable. As with any higher education, it shows that you're motivated to learn and educate yourself and that your knowledge has been tested and proven.  

What advice do you have for Certified Beer Servers who are looking into taking the Certified Cicerone exam?


Just commit to it. Sign up, pay the fee, set up a study schedule and push yourself to stick to it. Find some accountability partners, find some study buddies and someone who's already a Certified Cicerone to motivate and encourage you! Besides, you're studying BEER. Don't forget that! It's easy to lose track at how lucky we are to be studying something that involves tasting delicious things. 
Ready to get started? Learn more about the Certified Cicerone exam here!