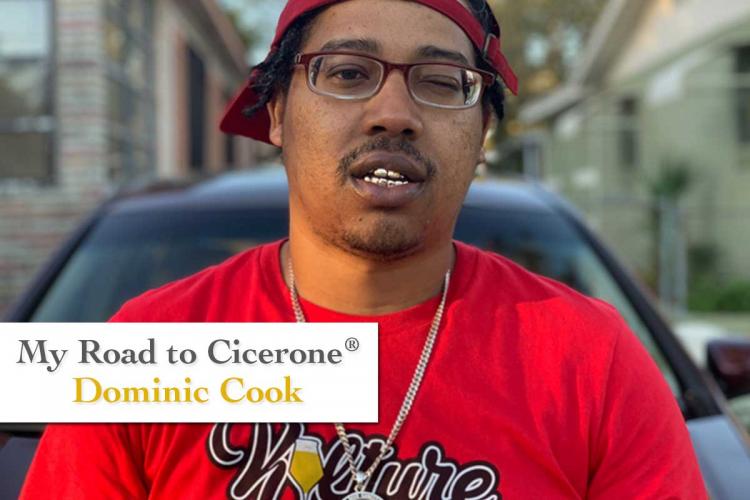 ---
My Road to Cicerone®: Dominic Cook of Beer Kulture
---
Dominic Cook is a Certified Cicerone® from St. Petersburg, FL. Here he shares how earning his certification helped him gain credibility in the industry and support others to do the same.
Where do you work and what do you do there?
Currently I'm running Beer Kulture full time, in the role of a creative director with the brand. 

How did you first hear of the Cicerone Certification Program?

There was a guy that I followed on Instagram back in 2013 who had passed it. He's a brewery owner now but he was the first person I saw talking about it, and after that I checked the website to learn more about the program. Although I didn't commit to it then, I knew I would at the right time.

What made you decide to pursue Cicerone certification?
I actually decided to obtain my certification before I took the leap to jump into the beer industry. I wanted to make sure I had a solid foundation for my own sake, but also for the people I would interact with both while working and while dealing with people outside of work in regards to beer. The Cicerone Certification was mandatory. I needed to know my stuff and this was how I could learn stuff the right way. 

Why did you choose to become a Certified Cicerone?
I needed that paperwork. It just had my name on it. With my love for beer and deciding to jump head first into the industry I just felt like this was a credential I needed under my belt and it would be something to really help me understand beer better, and thus be able to serve others better. I also felt like it would make people in the industry take me more seriously. 

Explain how earning your certification helped your career in the beer industry.
To my surprise, it didn't help my career in the industry, but it helped in other ways. It helped me support others in finally pulling the trigger to obtain their certifications. It helped me serve patrons better and assist my co-workers with knowledge and training, and it helped me introduce non-beer drinkers to beer in easy-to-understand ways. 

What are your greatest strengths now that you're a Certified Cicerone? 
Style variation and being able to introduce people to styles that they'll like immediately is my greatest strength. After that I'd say being well rounded. The Cicerone program teaches us a lot about different areas revolving around beer and I think overall it helps us become balanced and well rounded beer professionals. 

Describe your study process. How did you prepare for the exam?
Time and patience. I studied for 4-6 hours a day, 6 days a week, for 20-something months. Flash cards, reading books, watching videos, buying off-flavor kits for home, tasting and studying many different styles of beer, playing with faucets. During those months about 90% of the beer I had was for study. My study process was nothing more than face in the books or beer and testing out what I learned every chance I got. 

Were there any areas of study that you became particularly interested in while preparing for the Certified Cicerone exam?
No, all were a joy and were welcomed with open arms.

In your opinion, how valuable is it for those looking to boost their career to earn Cicerone certification?
I think getting your certification is VERY valuable. Especially if you want to be a consumer-facing person in the beer industry. This certification, in my opinion, should be a requirement for a lot of different positions within the industry and is one that I think more breweries, distributors, stores, bars, and restaurants should be investing in and pushing their staff to obtain. 

What advice do you have for Certified Beer Servers who are looking into taking the Certified Cicerone exam?
Study hard. If you have Certified, Advanced, or Master Cicerones around you, ask them questions. There are no stupid questions so ask away. But be diligent in your studies and when you go to take the exam, don't overthink it, trust your gut. 
Ready to get started? Learn more about the Certified Cicerone exam here!