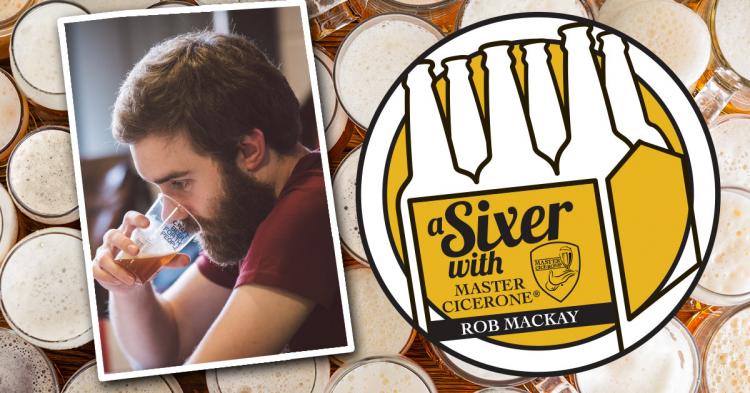 ---
A Sixer with Master Cicerone® Rob MacKay
---
Each quarter, you send the questions to us on social media and we'll select six and ask a Master Cicerone® to answer them. This time we welcome Master Cicerone® Rob MacKay to answer your questions.
---
What was the first step in your beer journey?
Not long after moving to Glasgow to study, a friend and I discovered the bottled real ale selection at a supermarket, and decided to try some out as a counterpoint to the 50p pints of lager we'd be drinking at the student union. We stocked up on Waggledance (a honey ale), Young's Double Chocolate Stout, Banana Bread Beer, and Bishop's Finger (snort). We noted what we liked and disliked about each beer, and scored them out of ten, so we'd have a record of which to revisit. Although it was fun, and we hadn't expected to find such a range of flavours within a relatively staid category, the project evaporated pretty quickly. This was back in 2002; I was only eighteen, and the lure of cheap beer (and spirits) quickly distracted us from our little project. It wasn't until years later, around 2009, that I got into Belgian beers (kicked somewhat into overdrive following a trip to Brussels) and things really kicked off.
In 2011 I was working in a design studio, where a friend suggested we start buying BrewDog beer online. I'd already tried some of their earliest releases, but seeing the culture and the brand they had built around their products was probably the real significant step in my beer journey. It wasn't until this point that I'd ever considered that beer could be my career, but I decided very quickly that it was what I wanted to do.  
Were some aspects of the Master Cicerone study process more difficult or easier than expected? Like what?
When I looked into the theoretical side of beer dispense (balancing draft systems and the like), I was a little surprised at how straightforward I found it—I was always pretty good at maths and physics, and the equations used for draft balancing are fairly simple. That meant I was able to box off that section of the syllabus quite quickly, occasionally dropping it into my revision just to ensure I was still on top of it. The same was true for water chemistry—a notoriously (and somewhat ironically) dry subject, but once I dusted off some mental cobwebs, I found it pretty enjoyable to get back into working with chemical equations.
On the flipside, despite having found beer styles an engaging topic at the Certified Cicerone level, there was no preparing me for the sheer volume of information within the Master syllabus. Learning not just the qualitative, but also the quantitative information across all of the BJCP-recognised beer styles is a contentious area for some; it requires some degree of straight-up rote memorization of lists of numbers. When you start, it's pretty daunting. I used memory aids to make it more manageable, but the real key is to ensure that you don't lose sight of the purpose of what you're learning. The one thing I always tried to keep in mind was that I would be being tested on my ability to communicate about beer, not learn lists of numbers, and that I shouldn't put undue pressure on myself to nail every single stat. That kept me from stressing about it, which helped loads.
What is a good way to improve tasting ability?
It depends a lot on what your end goal is. Becoming a better taster for objective, technical beer analysis requires a different set of skills to improving at descriptive profiling. One requires brevity—using as few descriptors as possible, yet ensuring everyone understands precisely what you mean—while the other is about using rich, expressive language to evoke a strong concept in the reader or listener's mind.
If one wanted to improve on the technical side, a tutored course is a great way to develop your tasting ability. I was lucky enough to train with Bill Simpson, the founder of AROXA. You really need to be tasting the relevant esters, phenols, acids, alcohols, and aldehydes (plus more) in a variety of beer styles, over and over, until it becomes second nature to identify the specific compounds. It's not easy, and while there are several very distinctive aromas that appear in beer, there are far more examples that are subtle and easily confused.
To be honest, whether it's technical or descriptive, the key to improving is experience. Unless you're reinforcing theory with practical experience (which includes taking notes), you won't become a better taster, at least not in any meaningful way. On which basis, I'd say that the single best way to improve, is to take part in regular production taste panels at a brewery.
When your life is so consumed by beer, what else do you do, or talk about with other people? How do you find a balance?
I've never really had any issue balancing beer with the rest of my life, except perhaps during my study for the Master exam. I spend most of my time with my family. I've got a four-year-old boy, a seven-month-old girl, a wife(who also loves beer), and a dog, so I'm kept pretty busy. 
At work, I'm a creative director first and foremost—I got into the beer industry via graphic design, copywriting, and photography, rather than brewing, and they remain my main focus today. I also find that having worked in hospitality and FMCG for 15 years combined, beer is often the last thing I want to talk about—I'd rather just drink(and enjoy) it. At Drygate, we devote our time and attention across beer, food, and the holistic experience of enjoying them together in friendly, relaxed surroundings. This also brings me balance—beer is just part of the bigger picture, as it most often should be. 
When I'm with friends, conversation invariably turns to a finely tuned blend of in-jokes and obscure TV/film quotes, usually all but impenetrable to an outsider. Topics include Twin Peaks, Star Wars, Buffy, His Dark Materials, Father Ted, the Simpsons, and Futurama; I'd happily talk about any of them for hours. Beer doesn't even get a look-in.
Do you think carbonation in beer could act to the detriment of the enjoyment of a meal or, say, tasting menu in a restaurant? 
That's a good question. I would imagine that if one set out to engineer a situation in which the carbonation of beer had a negative impact on the dining experience, it would be possible, but it would take some thought.
Perhaps an imperial or barrel-aged stout, intended to augment a dessert course, might let the side down if it turned out to be particularly highly carbonated. And certainly, a seriously over-carbed beer could ruin a meal, if it gushed over the table and soaked the food!
In general though, the presence of CO2, from a light prickle to full-on effervescence, is one of the reasons beer works so well alongside food. I wonder if the person who asked this has their own thoughts on the matter? I'd like to hear them!
If you could make one, what's your perfect beer?
It's a cliché, but choosing the perfect beer depends heavily on context. After a horrendous day of travelling in Germany, I once praised an objectively bad, metallic-tainted bottle of Becks as tasting amazing, because at that moment in time, it was exactly what I wanted.
But, to answer your question… If I could brew one beer, it would be a big red IPA—packed with American hops and spec malt, and fermented out with fairly neutral yeast character. It would evoke cut pine, pollen, orange peel and gorse, with that toffee apple bite you can get in a toothsome red ale. Bittersweet, and not overly reliant on resin, it would be beautifully balanced between hop, malt, and alcohol flavours. Get it right, and it's the perfect style for pretty much any occasion.
---
Rob MacKay spent twelve years in Glasgow, Scotland, where he studied for his BEng (Hons) in Product Design Engineering at the University of Strathclyde, as well as working in the hospitality industry before moving into graphic design.
He spent five years at BrewDog HQ, during which time he ran the design team, the new product development process, and became a key part of the sensory analysis team. Rob became the tenth person to pass the Master Cicerone exam in 2015, after just a year and a half in the beer industry. 
Rob is now the Creative & Marketing Director at Drygate Brewing Co. back in Glasgow, where all of his experience goes into developing and promoting beer, food, and the ideal environment in which people can enjoy them with their friends and family.