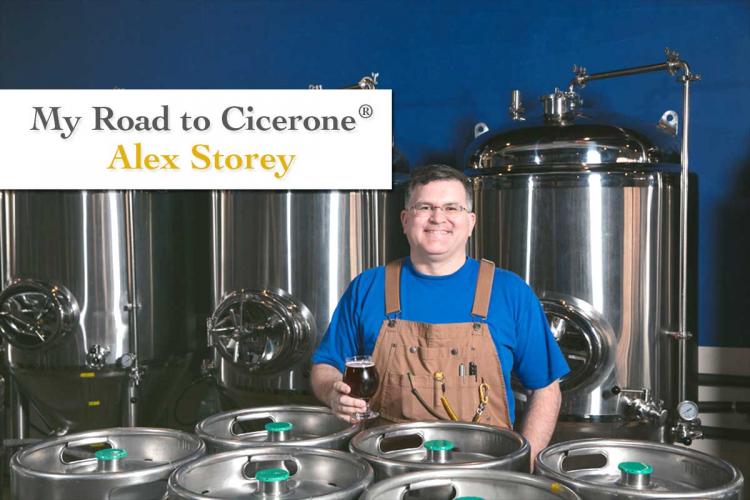 ---
My Road to Cicerone: Alex Storey of Audacious Aleworks
---
Alex Storey is a Certified Cicerone® from Arlington, VA. Here he shares how earning his certification helped him transition into his brewing role.
What's your current role and how does being a Certified Cicerone help you with it?
I am the head brewer at a five-barrel brewery and taproom. My Cicerone training is useful in the brewhouse and front of house, particularly beer styles, off-flavor identification, and training staff in proper serving techniques and tap cleanliness.
Describe the factors that made you decide to become a Certified Cicerone.
After nearly 20 years in IT, I needed to make a change. I wanted to become a brewer, but entry-level jobs were few and far between. I figured I'd become a brewery or a distributor representative instead, and becoming a Certified Cicerone would definitely give me a leg up. I sat for the exam about a month before I became a brewing assistant. 
Explain some of the challenges you had while studying for the exam, and how did you overcome them? 
Shops near me are pretty good at rotating stock so it was tough to find beer that had gone off. I buddied up with a few people from my homebrew club who were preparing for BJCP exams and we got a small collection of out-of-code beers and in-code beers that we could "improperly handle," like ruining them with sunlight or a hot water bath.
How did you prepare for the exam? What were the most beneficial resources that you used?
The Cicerone style flash cards were quite helpful, as were the BJCP style guidelines and the annotated Cicerone syllabus from The Beer Scholar. My homebrew club Grains Result in Something Tasty (GRiST) sprung for an off-flavor kit to help members study for BJCP exams, and several of us formed our own study groups to try the various beer styles.
Since becoming a Certified Cicerone, what have been some of your greatest achievements?
My greatest achievement has been using my Cicerone knowledge to improve the quality of beer and beer service at our brewery. When the brewery opened, we had six beers on tap of uneven quality and a staff that didn't know much about them. Now we have 19 beers (and a few hard seltzers) on tap and a staff that has a better understanding of proper beer service as well as knowledge of the beers themselves.
In your opinion, how valuable is Cicerone certification for those looking to boost their career?
It's very valuable, particularly for people in front-of-house careers since Cicerone has a strong focus on service. Brewers would definitely benefit from the expanded knowledge of beer service.
What's your top study tip for anyone preparing for the Certified Cicerone exam?
Try as many different beer styles as you can. Better yet, try them all! There isn't much room for error in the tasting portion. One beer style I was presented with was one of the few I hadn't had before and I misidentified that one because of it.
Ready to get started? Learn more about the Certified Cicerone exam here!