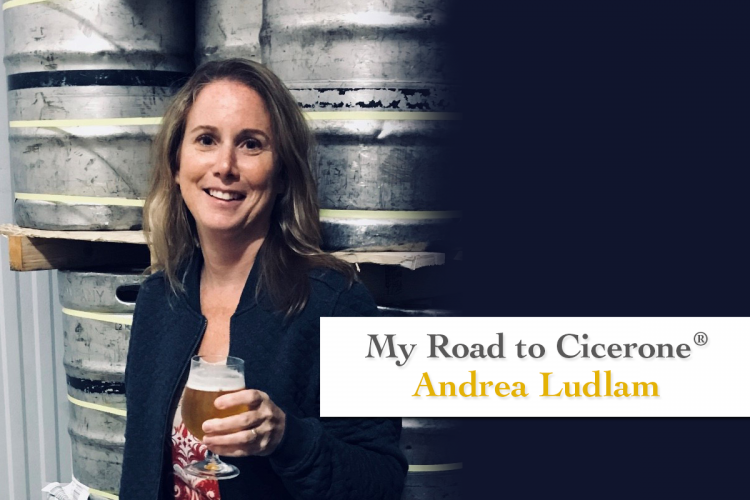 ---
My Road to Cicerone®: Andrea Ludlam of Sheehan Family Companies
---
Andrea Ludlam is a Certified Cicerone® from Abington, MA. Here she explains how earning her certification has enhanced her understanding of beer and the industry as a whole. 
Where do you work and what do you do there?


After many years spent in a variety of supply chain roles in the apparel and food industry I decided to combine my personal hobbies and interests in craft beer with career goals and came to work for the Sheehan Family Companies in 2013 as a Corporate Inventory Buyer. Located in Kingston, MA, we are a national distribution company that operates in MA and 12 other states partnering with breweries to sell and distribute a large portfolio of some of the best domestic and international brands in the world.  

How did you first hear of the Cicerone Certification Program?


In 2014 I first saw the words Certified Cicerone® within an email signature of a colleague and googled to see what it was. Immediately I knew this was something I wanted to pursue. I enjoy learning new things and this seemed challenging and rewarding. 

Why did you choose to pursue Certified Cicerone while already working in the beer industry? 


Before I started my current job, I thought I knew a lot about beer but quickly learned that wasn't the case. This industry is as diverse and unique as beer itself! I thought if there was an option to learn more about beer, which I love, and it would help me in my career then it was a no brainer to get to work on my certification. It's also helped me become a better home brewer.

What was your study support network like? Did you receive support from a study group, your employer, or study solo? 


I can say for sure that the support from my company was the key to getting my certification. They offered an onsite weekly class before work for 5 months where we broke the syllabus down into manageable topics for review. Even with that class, I spent 2-3 hours a week studying on my own and met additionally with a smaller group for tasting/study sessions. It was a big personal time commitment but really enjoyable as well because I found the material so interesting.

Describe your study process. How did you prepare for the exam?
My approach for studying was all encompassing! It included flash cards I created which I reviewed constantly with help from my family--my kids love to tell people all about Pierre Celis and how he revived the Belgian Witbier! For the essay portion of the exam I would come up with sample questions from books I read and worked hard to write essays as factual and concise as I could. There is not a lot of time during the exam to write a long rambling essay.
Right before the exam I started to pull back on studying everything and just focus on the things I felt I wasn't that strong on. It was a major cram to solidify the beer stats. I put all the details into an excel sheet and just studied the hell out of that. SRM, IBU, ABV ranges are all important to know and how the countries' history shaped them and why. I also struggled with off flavors and purchased an additional kit on my own to help me pass that part of the exam. 
Explain how earning your certification has helped your career.


Pretty quickly I started to see how a better understanding of the styles and beer stats made a difference in how I was buying them. By learning how different hops, malt or yeast strains contribute to flavors in beer I can often tell what characteristics the brewery is trying to showcase.  Also while I was studying for the exam I joined an international organization called Pink Boots Society. Their meetings have a three-pronged approach: Networking with women in all three tiers of the beer industry, peer presentations of relevant topics (e.g., a new local wild yeast strain), and upcoming scholarship opportunities. The meetings are great and I've become friends with some incredibly talented women who are shaping the Massachusetts craft beer scene. It was due to the Road to Cicerone course on beer ingredients that I became interested in hops and was awarded a PBS scholarship to Yakima Valley to see the hop harvest in action!

What are your greatest strengths now that you're a Certified Cicerone? 


I have more confidence in myself and how I buy. In addition, knowing more about the industry now it has made me appreciate the importance of the partnerships between the brewery, distributor, and retailer. My relationships with breweries are now stronger and I better understand how things affect brewery production (e.g., why you have a yield shortfall or the effects of a can shortage due to the recent tariffs on aluminum).

Were there any areas of study that you became particularly interested in while preparing for the Certified Cicerone exam? 


Looking back at the industry in the 20th century and how it's rapidly changing with 7,000+ US breweries on target for the end of the year is fascinating. I am particularly interested in how local ingredients are reshaping craft beer flavors and adding to the appeal for customers. Local breweries + locally sourced ingredients are also great for the local economy! Last year I also planted hops and have brewed with them which has been fun.

In your opinion, how valuable is it for those looking to boost their career to earn Cicerone certification?
Any legit industry certification you can obtain is a valuable tool for your career no matter what sector you work in. Due to the significant personal time you spend studying outside the classroom it shows a high level of commitment to my company and my career to have invested the time to become a Certified Cicerone. I will say that originally I thought this material would have a sales focus, i.e., to better understand beer--to be able to sell more beer. Being a buyer (and homebrewer) I thought it would be an interesting class to attend, where I would taste new styles of beer and learn a few things. It was fun, interesting, yes, but most importantly I learned a ton and found that as a buyer this certification has given me a 360° perspective of my industry that I didn't have before. It is valuable knowledge for the seller, buyer, brewer, server, merchandiser, and basically everyone in the beer business! As an aside, being a woman in the beer business is a small segment as compared to the whole so being only the second woman in my office to become a Certified Cicerone is something I'm especially proud of.  
What advice do you have for Certified Beer Servers who are looking into taking the Certified Cicerone exam?


It's a LOT of work but also a lot of fun if learning is your thing! Just pick a date to start studying even though the syllabus looks daunting. Break down the material into smaller pieces and have fun with it. No matter what your beer related job is you will learn a lot and will come out ahead. I vastly expanded my palate and gained a much better appreciation of my favorite beverage and everything that goes into making it. That's a win-win in my book!
Ready to get started? Learn more about the Certified Cicerone exam here!