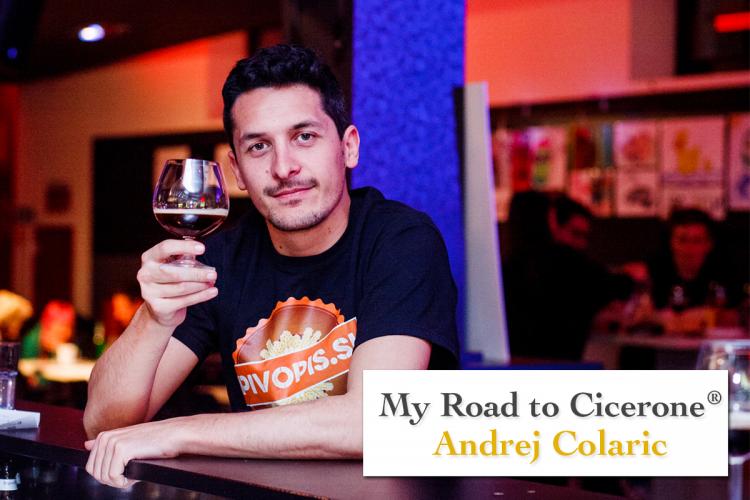 ---
My Road to Cicerone®: Andrej Colaric of Pivopis
---
Andrej Colaric is a Certified Cicerone® from Novo Mesto, Slovenia, and was the first in his country to achieve the title! Here he shares a bit about how the journey as well as the destination helped his career in the beer industry.
Where do you work and what do you do there?
I'm currently at Pivopis.si, which is the largest beer news & knowledge website in the region. We are a small team of enthusiastic beer experts, so for pretty much anything we want to do, we need to do it ourselves. That makes it hard sometimes, but gives us great freedom of doing things we want to do and believe in. I'm the editor, beer course lecturer, marketing guy, but most importantly, probably the biggest beer lover in Slovenia. 
How did you first hear of the Cicerone Certification Program?
I always knew I loved beer. I also had a feeling I knew quite a bit about it. Well, that feeling went up in flames when I found Cicerone online while searching for beer education certificates. I saw the CC test example and because it seemed so rigorous, I instantly loved it.
Why did you choose to pursue Certified Cicerone while already working in the beer industry?
Well, I was a beer blogger at that time, so Certified Cicerone seemed like a perfect opportunity to get into the books and beers, study hard, and get the necessary knowledge about beer while pursuing the title. Few people knew about Cicerone in this part of Europe at that time. That was certainly an additional challenge to become the first CC in the area. And two years later, that is actually still the case.
What was your study support network like? Did you receive support from a study group, your employer, or study solo?
Haha, I would have given anything for a study group at that time! I was doing all the preparation solo, I also had quite a hard time getting some beer style examples in Slovenia, as the craft beer scene was very young here and bars/shops were not that well stocked.

I did manage to get some beer-loving friends together for a Sunday afternoon, after we ordered an off-flavor kit. They probably expected some great beers, but you can imagine their disappointment…

Describe your study process. How did you prepare for the exam?
The theory part of the study process was just like any other exam. You have to sit down and learn. There is no other way. But the difference is that you read and learn about BEER. That helped a lot. I learned at home, in bars, I had the flashcards with me at the seaside, on my hiking trips …The tasting part was much easier. I just tried to get my hands on as many different beer styles and beers with major flaws to learn about the off flavors.
Explain how earning your certification has helped your career.


It certainly gave me a fair amount of credibility. Some people from the US have said I know a lot about beer. That kind of thing is important, because if you are coming from a country with 2 million people, external validation helps a lot.It also gave me motivation to work with beer professionally and eventually I started drinking, writing, and talking about beer for a living. Who wouldn't want a job like that?

What are your greatest strengths now that you're a Certified Cicerone?


I understand beer much better now. It also gave me a sense of how big and glorious the beer world is. But most of all, I think people love my passion for beer and often get "infected" by it. I managed to show quite a few people how great craft beer can be. And as you know, once you go there, there is no way back …

Were there any areas of study that you became particularly interested in while preparing for the Certified Cicerone exam?


Pairing food and beer was my passion even before earning my title. Obtaining all the knowledge and understanding of pairing dishes and great beer by studying for the exam (and also cooking and trying the combinations at home) and then writing about it, helped me to earn respect from excellent chefs and their restaurants in Slovenia, so they invited us to work with them. We even had a beer vs wine dinner, where a wine sommelier paired every course with a wine, while I paired it with a beer. The crowd was mostly wine-drinking people, so the absolutely amazing thing is – beer won!

 
In your opinion, how valuable is it for those looking to boost their career to earn Cicerone certification?


Just pursuing the title gives you a great deal of knowledge. Doing that also means you will understand beer much better going through the study materials and tasting all the beers. And understanding beer as much as possible is key to be successful in any part of the beer industry.

What advice do you have for Certified Beer Servers who are looking into taking the Certified Cicerone exam?


I literally had to travel 1000 miles from Slovenia to get to the exam in London. So, motivation is a big part of the decision. If you plan to work in the beer industry, that is not only a smart decision, but a decision that will probably change the course of your beer career. Like I said before, the pursuit of Certified Cicerone is probably equally important to earning it. You will learn so much about beer that sometimes you will wonder if this is still the same drink you have been loving all this time. Then you just need to pass the exam for the whole experience to be complete. And then, drink some well deserved beer.
Ready to get started? Learn more about the Certified Cicerone exam here!