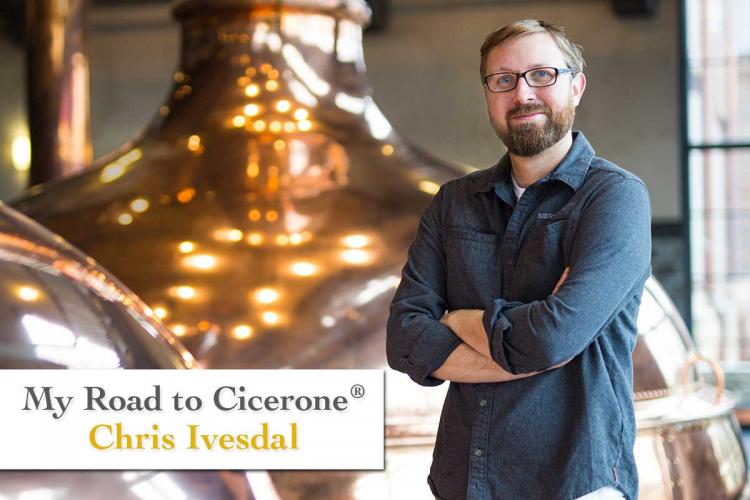 ---
My Road to Cicerone®: Chris Ivesdal of Sierra Nevada
---
Chris Ivesdal is a Certified Cicerone from Mills River, NC. Here he explains how earning his certification got him where he is today.
Where do you work now and what do you do there?
I'm grateful to work at Sierra Nevada Brewing Company in Mills River, NC. I originally moved to Asheville in western North Carolina in 1996 and have always loved beer. When SNBCO announced they would build a second home here in 2012 it felt like I had won the lottery. I immediately began working on becoming a Certified Cicerone after the announcement and passed the exam in 2013. I landed a dream job as a commissioning member of the Guest Experience team at Sierra Nevada in 2014 while the site was still under construction. I currently work in the Quality department as the Onsite Draught Technician. I spend my days cleaning, maintaining, and troubleshooting over 200 faucets that we have onsite spread out between the Tours, Taproom, Sensory, and Events teams.
What industry were you working in when you started preparing for the Certified Cicerone exam? 
I was working in the Food and Beverage Industry.
How did you first hear of the Cicerone Certification Program?
Asheville is a beer-centric town. I had heard about the Cicerone program through industry friends and publications. I was told upon passing the exam in 2013 that I was the fourth Certified Cicerone in Western North Carolina. I'm certain that there are many more at this point.
Why did you choose to pursue Cicerone certification? 
I choose to pursue the Cicerone Certification program to seriously demonstrate and certify the large amount of beer knowledge that I had obtained from home brewing and general love along with a passion for beer styles and service.
Explain how earning your certification helped you break into the beer industry.
Before working at Sierra Nevada I worked at a small beer bar named Asheville Growler. This was my first job working directly with craft beer. I was told by the owner that my Cicerone certification was the determining factor in his decision to hire me over many other applicants.
Describe your study process. How did you prepare for the exam?
My study process consisted of close to three months of immersion in the material associated with the study guide.  I'm lucky that Asheville is such a great beer town.  
Were there any areas of study that you became particularly interested in while preparing for the Certified Cicerone exam? 
I've always loved beer styles, history, culture, and food. Beer has the amazing ability to bring out the best of communities through local events and festivities. I really enjoyed diving into how beer plays such a pivotal role in lifting society. I can also nerd out on process and ingredients but the way beer seems to weave itself into the fabric of who we are is very cool!
What are your greatest strengths now that you're a Certified Cicerone? 
Right now my greatest strength is obviously anything to do with draught systems. I'm also really handy with helping to find where a new beer off the onsite 10 bbl pilot system fits into style spaces.
In your opinion, how valuable is it for those looking to get into the beer industry to earn Cicerone certification?
I believe that working towards becoming a Certified Cicerone is a great step to landing a job in the beer industry. Conviction, dedication, and passion for the craft of making beer are all words that I would use to describe those in the process of becoming Certified in the Cicerone educational program.  Conviction, dedication, and passion are what fuels this industry.
What advice do you have for Certified Beer Servers who are looking into taking the Certified Cicerone exam?
Good luck!  Drink lots of water, get plenty of sleep, find quiet places to read about and enjoy wonderful beers.  
Ready to get started? Learn more about the Certified Cicerone exam here!