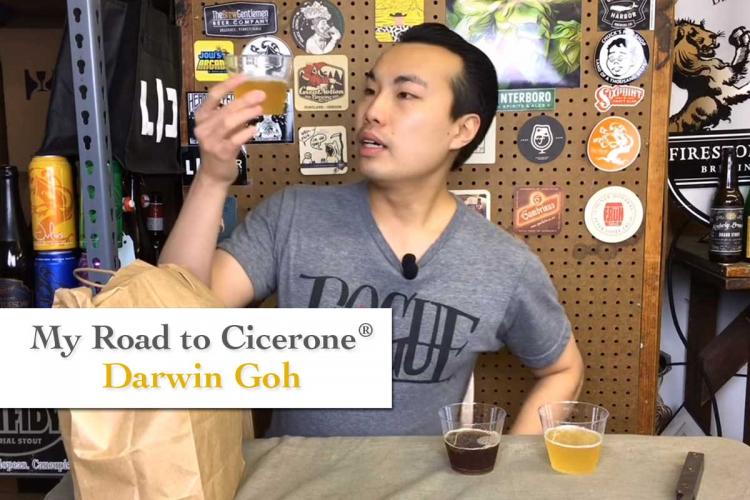 ---
My Road to Cicerone: Darwin Goh of Ellipsis Brewing and Sanford Brewing
---
Darwin Goh is a Certified Cicerone from Orlando, FL. Here he shares how earning his certification helped him break into the beer industry.
What's your current role and how does being a Certified Cicerone help you with it?
I have a YouTube channel, Darwin's Beer Reviews, where I do beer reviews and educational beer videos. Earning Certified Cicerone has helped me become more respectable and knowledgeable in my reviews. I am also a Bartender at Ellipsis Brewing and Bartender/Server at Sanford Brewing. 
Describe the factors that made you decide to become a Certified Cicerone.
I come from a different background where I was sworn in as an Attorney in New York before I got into the industry. I had an extremely hard time finding work in the beer world despite my beer knowledge. With two years of experience in the industry, I had trailed to barback at a world famous beer bar and was rejected for the position. That news triggered me to immediately sign up for the Certified Cicerone exam. In applying for future positions, I wanted Certified Cicerone on my resume to show I was serious about working the craft beer industry. 
Explain some of the challenges you had while studying for the exam, and how did you overcome them? 
Learning things I did not have much experience in at first: draft systems, brewing process, ingredients, and food and beer pairing. Although I felt I had a very competent palate, the wide range of knowledge needed for the test seemed daunting at first glance. However, with just a few hours of studying the material, it becomes quite manageable to get a good command of what is needed to pass the test. 
How did you prepare for the exam? What were the most beneficial resources that you used?
I am consistently asked this question and there is no better answer than Chris Cohen's guideline. 
For the Bar Exam, I had an extensive 14 week course of study guides, lectures, and practice exams. It was condensed material with a practical schedule on how to study the vast material for the exam. Chris' outline is similar in that it is basically all you need to study to pass the written portion of the exam. His content is invaluable in how it condenses the study material for Certified Cicerone. 
The other resource is the BJCP Style Guidelines. Anyone interested in beer or working in the industry should download the app and read it as much as possible.
Since becoming a Certified Cicerone, what have been some of your greatest achievements?
My greatest achievement was finding my place in the industry. I have had a hard time trying to find work, despite hundreds of emails, applications, and dozens of interviews throughout my career. My greatest achievement was finding employment in something I am so passionate about and being able to share my passion and knowledge with others.  
In your opinion, how valuable is Cicerone certification for those looking to boost their career?
It is first off invaluable in the knowledge you will possess to pass the exam. The pride in that knowledge not only offers tangible benefits to your work, but also a sense of self confidence in having a certification that very few in the industry have. 
As for furthering your job prospects, it depends on your market. The craft beer industry and Cicerone are still relatively nascent. Owners and managers will hire semi-relevant experience over beer knowledge. My experience in New York City is that I was hired by a few Certified Cicerones, as those who know what it takes to take the test will be more willing to hire another Cicerone. Other markets will not show that same respect for Certified Cicerones. 
Also, importantly, as Ray Daniels has mentioned on Good Beer Hunting, Certified Cicerone is a great way to highlight yourself if you are a minority race or female. The industry is extremely lacking in diversity. For those of who do not fit the stereotypical race and gender of most who work in the craft, Certified Cicerone is a fantastic way to differentiate yourself from other candidates.  
What's your top study tip for anyone preparing for the Certified Cicerone exam?
The top study tip is getting the BJCP App and constantly reading it on your phone, or having it printed out and always on you. A good portion of the test is beer styles and that becomes a breeze if you are very familiar with BJCP. It also reinforces your knowledge of ingredients, brewing process, beer history, etc.
Ready to get started? Learn more about the Certified Cicerone exam here!