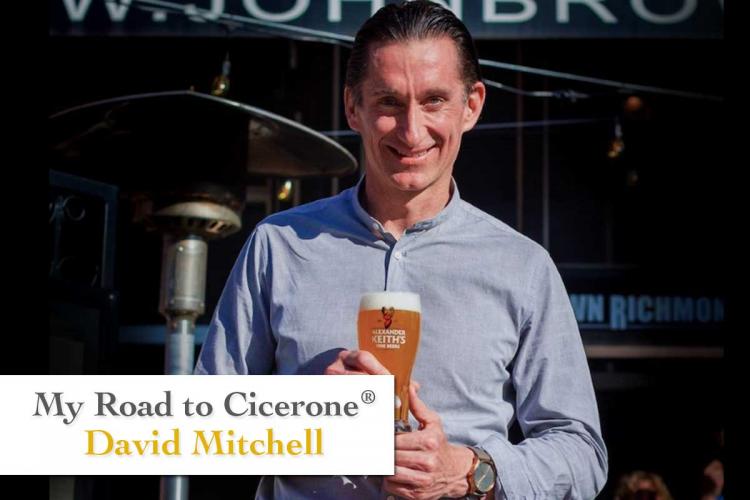 ---
My Road to Cicerone®: David Mitchell of Labatt Breweries
---
David Mitchell is a Certified Cicerone® from Prince Edward Island, Canada. Here he describes how earning his certification helps him in his daily life.
What's your current role and how does being a Certified Cicerone help you with it?
I am currently a Territory Manager with Labatt Breweries of Canada, based in Charlottetown, Prince Edward Island. Becoming a Certified Cicerone has given me instant credibility with my customers. Whether I'm assisting with brand portfolios, style descriptions, food pairing opportunities, or troubleshooting draught systems, this designation has given me an advantage in the marketplace. 
Describe the factors that made you decide to become a Certified Cicerone.
The possibility of taking the Certified Cicerone exam was presented to me as a professional development opportunity and I instantly put my efforts into achieving this designation. The beer market has never been as competitive as it is today and I knew that this was something that could set me apart from my competitors and more importantly bring value to my customers as they adapt with current and future trends in the industry. 
Explain some of the challenges you had while studying for the exam, and how did you overcome them? 
Living in a small province such as PEI created a challenge when it came to sourcing certain styles that would be featured in both the written and tasting parts of the Certified Cicerone exam. I was fortunate enough to have Michelle Tham (Certified Cicerone and Labatt Head of Education) as a resource and she was able to send me some styles that were not immediately accessible to me. There was a huge amount of information to process and it was sometimes a challenge managing my everyday work schedule and the rigorous study time required in order to put myself in a position for success. 
How did you prepare for the exam? What were the most beneficial resources that you used?
As previously mentioned, Michelle Tham was a huge resource for me. We would have regularly scheduled calls and study sessions. She also worked with me prior to the exam in order to make sure I felt confident leading up to the big day. My study time consisted of four hours a week for four months leading up to test day. I cannot stress enough that candidates need to work this into their schedules as there is an enormous amount of information to work through. 
Since becoming a Certified Cicerone, what have been some of your greatest achievements?
I have had lots of fun since becoming a Certified Cicerone. There was an opportunity to work with ANBL Product Advisors for a two-day breakout session that focused on style description, food pairings, and much more. We have launched a new series of AK Brewery brands in Atlantic Canada and I have been able to gain distribution of these award-winning brands by executing beer dinners and tastings. Being able to talk and engage with consumers at various beer festivals with this knowledge is always something I look forward to. 
In your opinion, how valuable is Cicerone certification for those looking to boost their career?
I feel that this designation can take someone a long way in their career. This is a rank that is difficult to achieve and holds a tremendous amount of weight in the industry. The knowledge a person gains even if they are not successful in their attempt is still plentiful. I would recommend this to anyone, as the process is extremely rewarding. 
What's your top study tip for anyone preparing for the Certified Cicerone exam?
Stick with the process. Make a schedule and do your best to follow it. There will be days that you feel overwhelmed and defeated. During these times, focus on a portion of the exam that you feel confident with so you can increase your confidence before tackling the information that is more trying. Best of luck. You got this!
Ready to get started? Learn more about the Certified Cicerone exam here!