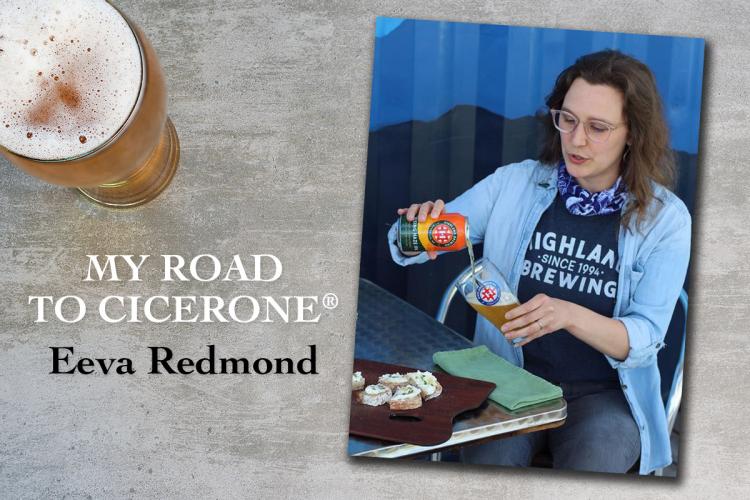 ---
My Road to Cicerone: Eeva Redmond of Highland Brewing Company
---
Eeva Redmond is a Certified Cicerone from Asheville, NC. Here she shares how her certification journey helps her with her daily roles and has shaped her experience in the industry.
What's your current role and how does being a Certified Cicerone help you with it?
In my current role with Highland Brewing Company, I manage communications and community outreach. I write beer descriptions, brand messaging, and copy grounded in the qualities of our beer and the craft of our brewing process. My Cicerone knowledge is very useful in those tasks. 
This spring, we created a series of Facebook live happy hours and I appeared in a few of those videos. My favorite was an interview about beer and cheese pairing. I paired Highland's Rising Haze IPA with goat cheese, lemon thyme, and a drizzle of local wildflower honey. It was delicious.
Describe the factors that made you decide to become a Certified Cicerone.
I've always loved good food and beer. As my interest in beer became more professional, so too did my interest in gaining a more comprehensive understanding of the product and process. Getting my Cicerone certification increased my confidence and validated that I know what I am talking about when it comes to beer.
Explain some of the challenges you had while studying for the exam, and how did you overcome them? 
I had a lot to learn about draft quality and draft system maintenance. At the time, I worked for Sierra Nevada. My colleague and fellow Certified Cicerone, Chris Ivesdal, let me shadow him in his rounds of line cleaning. Cleaning the lines, balancing the system, and taking apart all the faucets gave me the practice I needed for that portion of the exam. 
How did you prepare for the exam? What were the most beneficial resources that you used?
I prepared for the exam by breaking down the syllabus and mapping out my study plan based on my level of familiarity with each topic. The most beneficial practices for me included a lot of blind tasting, shadowing line cleaning, and talking to other local cicerones about their experience.   
Since becoming a Certified Cicerone, what have been some of your greatest achievements? 
I was the first woman at Sierra Nevada's North Carolina facility to receive the Cicerone certification and I am the first female Certified Cicerone at Highland too. Those aren't necessarily achievements, just the reality of our industry. 
Throughout the process of studying and preparing for the test, I had so many peers and industry professionals go out of their way to help me. Those gestures of support were key to my success. I want to return that kindness and I am proud support a growing study group of women working towards their Cicerone certification now.
In your opinion, how valuable is Cicerone certification for those looking to boost their career?
The Cicerone program and its certifications are widely accepted benchmarks for beer knowledge. My Cicerone certification adds to my credibility when I speak to the public, media, and industry partners. That has a lot of value in my line of work. 
What's your top study tip for anyone preparing for the Certified Cicerone exam?
Take the practice exams – it is one thing to know the exam content and another to understand the test and correctly respond to the questions.  
Ready to get started? Learn more about the Certified Cicerone exam here!