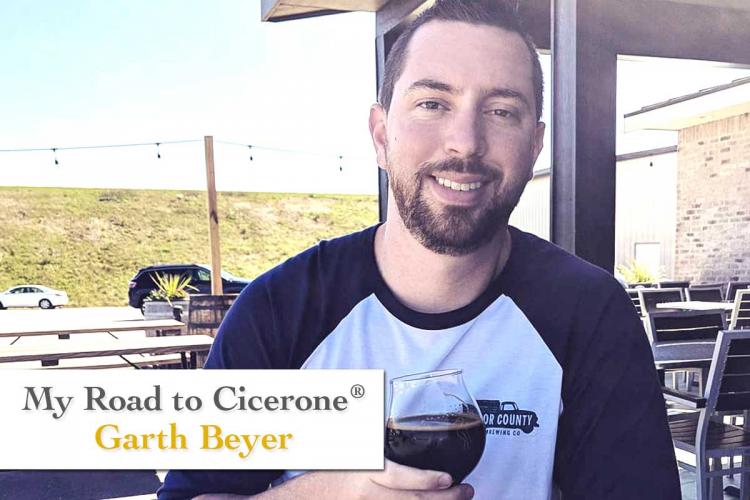 ---
My Road to Cicerone®: Garth Beyer of Garth's Brew Bar
---
Garth Beyer is a Certified Cicerone® from Madison, Wisconsin. Here he describes how his certification has helped him grow his career in the beer industry.
What's your current role and how does being a Certified Cicerone help you with it?
I own a craft beer bar that's opening this fall in Madison, Wisconsin. Becoming a Certified Cicerone® has helped me connect with others in the beer community—near and far—and it's set me apart from other bars because I think people know the amount of work it takes to get certified. Being forward, getting certified is a sign that you truly care about different styles of beer, the breweries that brew them and the stories behind them.
Describe the factors that made you decide to become a Certified Cicerone.
Mostly, I was curious. I'm always trying to learn more about the things I enjoy. With craft beer being a major passion of mine, it just made sense. I wanted to challenge myself and take the next step in my obsession with beer. 
Then I wanted to bring a different kind of craft beer experience to my community. I needed the expertise to host tasting classes and curate beers at the bar. Telling people I was a beer geek with nothing to back it up didn't feel like enough. So, I decided I'd become a Certified Cicerone. 
Explain some of the challenges you had while studying for the exam, and how did you overcome them? 
I'm a hands-on learner and don't particularly enjoy the rote learning method. I had to force myself to memorize content with flash cards. It was tough. I don't think I would have passed the exam if my wife didn't help me study as much as she did. (Thanks, Bri.)
Subjecting myself to off flavors was difficult, too. After you taste old cheese or wet cardboard in beer, it's easy to say, "no more." But I pushed on, finding different ways to ruin beer both naturally and unnaturally, to varying degrees of disgust. It was terrible.
And finally, getting up after being knocked down twice! They say the first-time passing rate is somewhere in the 30 percent area and I understand why. I failed the tasting portion the first two times I took the exam. After that, though, I absolutely had to pass it. Third time was the charm, as they say.
How did you prepare for the exam? What were the most beneficial resources that you used?
The short version is that I tasted a lot of good beer and a lot of bad beer. It was fun telling people that I started drinking beer on a Saturday morning and then telling them that it tasted like sweaty socks (Isovaleric Acid) or melted butter (Diacetyl) because I was off-flavor training. They weren't jealous after that. Ha. For the long version, including every resource I studied from, you can check out my blog post here.
Since becoming a Certified Cicerone, what have been some of your greatest achievements?
I've hosted a series of beer classes around town: an off-flavor tasting panel, a style overview and tasting of hops, a cheese and beer pairing, and more. In every class, there's a spectrum of people, from those getting into beer to these awesome beer geeks—but when I talk about being a Certified Cicerone, there's instant trust, appreciation and a renewed sense of vigor for the class. The excitement of being a geek about beer is contagious. Helping spread that excitement is my greatest achievement since becoming a Certified Cicerone. 
In your opinion, how valuable is Cicerone certification for those looking to boost their career?
While it's not an end-all, be-all, getting certified comes with significant advantages. If you want to flex your certification with the media to put a fresh spotlight on your business, the value is there. It can help to grow your confidence and remove doubt you have in yourself when making beer recommendations to friends. The value of a Cicerone certification is different for everyone. For me, it was about ensuring everyone that I've gone to great lengths to curate a truly remarkable lineup of beers at the bar for them to enjoy—no matter their background in beer.
What's your top study tip for anyone preparing for the Certified Cicerone exam?
I'll share the same study tip a local Advanced Cicerone gave me. "Stick your nose in everything." Your nose is like any other muscle in that you need to exercise it for it to get stronger. The same can be said for your taste buds. It's critical to regularly practice blind tasting with similar styles beers and off flavors. Doing so once is not going to be enough for your muscle memory. 
And try to pick the brain of another Cicerone. Anyone can send me a note via my Cicerone profile or the email address listed in my blog post and I'll send you resources for studying and answer any questions you have related to the certification. We're in this together.
Ready to get started? Learn more about the Certified Cicerone exam here!