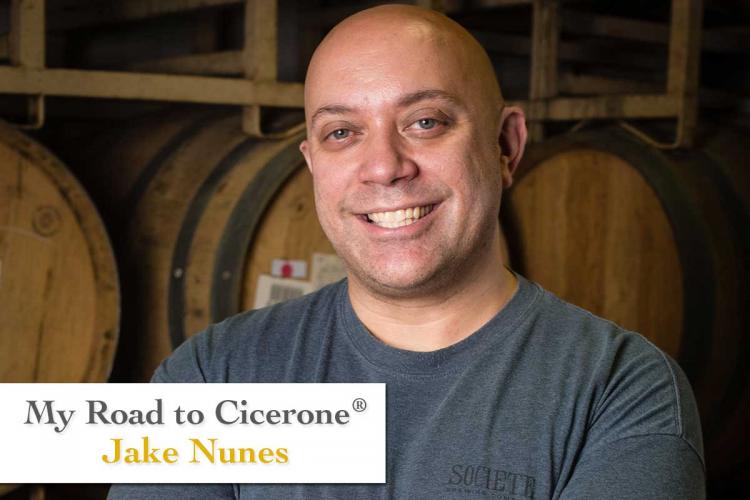 ---
My Road to Cicerone: Jake Nunes of Societe Brewing Company
---
Jake Nunes is a Certified Cicerone from San Diego. Here he tells us how earning his certification has helped solidify his place as a local beer expert.
What's your current role and how does being a Certified Cicerone help you with it?
I am the Retail Manager for Societe Brewing Company in San Diego. I manage the Tasting Room staff, coordinate merchandise sales, and support our sensory analysis program on the production side. Being a Certified Cicerone has definitely equipped me with the knowledge to train my staff on how to execute memorable craft beer experiences for our customers. I oversee a staff of friendly beer experts serving world-class beer, through a well-maintained draft system, into beer-clean glassware. It's a beautiful thing! The Cicerone program gave me a lot of the tools necessary to consistently deliver beer service at a high level. I'm also an Instructor and Advisory Board Member in the Business of Craft Beer Certificate Program at San Diego State University, where I teach a class on Beer Styles. My students receive instruction on sensory evaluation, beer style guidelines, and history. And yes, we drink beer together. The University reached out to me to help get the program started because they found my name on the list of Certified Cicerones in San Diego!
Describe the factors that made you decide to become a Certified Cicerone.
When my passion for beer started, I wanted to learn all I could on the subject. I was lucky to live in San Diego when craft beer was really gaining popularity around 2008. My friends always thought of me as a beer expert, but I wanted to be seen as a legitimate expert in the industry. When I first heard about the program, I knew that becoming a Certified Cicerone was for me. I passed the test in 2011. Today, when it comes to beer service, I am locally known as an expert in my field. 
Explain some of the challenges you had while studying for the exam, and how did you overcome them? 
In the beginning, I was intimidated comparing my beer tasting notes with others. "What if I observe something that's way off compared to everyone else?" The more I read beer books and used tools like flavor wheels and flashcards, the better I got at describing beer characteristics. 
How did you prepare for the exam? What were the most beneficial resources that you used?
My favorite books that helped me study for the Cicerone exam are Tasting Beer by Randy Mosher and The Brewmaster's Table by Garrett Oliver. Also, study groups helped me immensely. Blind tasting exercises and discussion were great ways to sharpen my palate. I was lucky to work for a great beer company when I was studying, so I was surrounded by experts who could answer my questions.
Since becoming a Certified Cicerone, what have been some of your greatest achievements?
I have been in positions of leadership in a few of the best breweries in the greatest beer town in the nation! I've worked for Karl Strauss, Ballast Point, Stone, Green Flash, North Park Beer Co, Tiger! Tiger! Tavern, and Societe. I have been honored to be a big part of the SDSU Craft Beer Program since its inception. I've been called upon to speak on the subject of beer and beer service on television, radio, and podcasts. I've also had the privilege to speak at trainings and seminars put on by the San Diego Brewers Guild and California Craft Brewers Association. Now, I am part of the leadership team for my favorite brewery!
In your opinion, how valuable is Cicerone certification for those looking to boost their career?
The Cicerone Certification program is recognized all over the world for being the authority on craft beer knowledge and proficiency. All of my tasting room staff is required to achieve Certified Beer Server status. Having the title of Certified Cicerone on your resume will open a lot of doors. Often a Cicerone's reputation will precede him or her. Earning Advanced or Master Cicerone is legendary!
What's your top study tip for anyone preparing for the Certified Cicerone exam?
Find like-minded, passionate beer people to study with. Share notes. Share beers. Beer drinking is a very social activity, which is one of my favorite things about it. Beer learning should be social as well. Try to find some experts to chat with. Try different styles of beer instead of reaching for that familiar favorite. Taking an off-flavor training class just before your test date is a good idea, as well. 
Ready to get started? Learn more about the Certified Cicerone exam here!