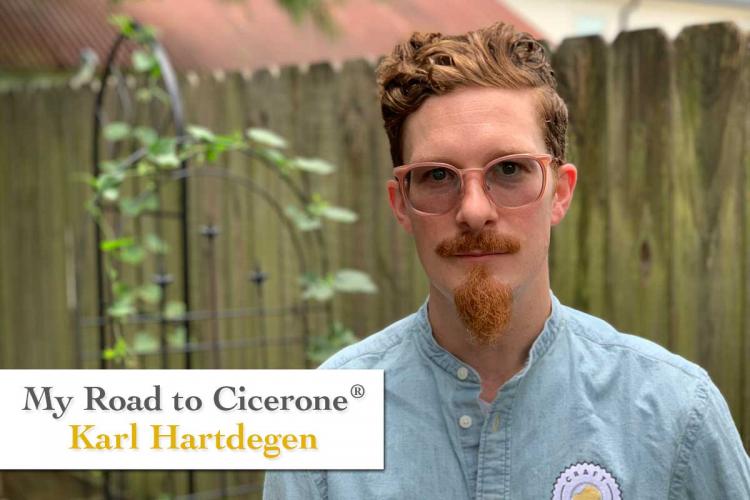 ---
My Road to Cicerone®: Karl S. Hartdegen of CRAFT CULTURE
---
Karl S. Hartdegen is a Certified Cicerone® from New Orleans, LA. Here he explains how earning his certification helped create opportunities for his career in the beer world.
Where do you work and what do you do there?
I am the owner and founder of CRAFT CULTURE. We are based in New Orleans, Louisiana where we craft authentic food and beverage experiences through high concept, top quality, personalized services, varying from guided tastings, food & beer pairings, consulting services, and interactive workshops such as Dive Pairing, Women in Beer, Hops of the World, and Beer & Cheese Pairing.
I was the former Director of Quality Assurance at Big Easy Bucha. I oversaw the quality assurance department and all upstream production. My responsibilities included building and training a team to ensure the highest level of quality standards through critical control points, good manufacturing practices, food safety plans, brewing, cellaring, blending, flavoring, sanitation, compliance, safety, research & development, and innovation efforts with one of the southeast's fastest growing food & beverage companies.
After receiving my master's degree in Hospitality and Tourism Management at the University of New Orleans, I was hired as the Brewer for Crescent City Brewhouse. There I refined my brewing techniques in the traditional German style in the longest operating brewery in New Orleans.
How did you first hear of the Cicerone Certification Program?
I heard about the Cicerone Certification Program through books by Ray Daniels, Randy Mosher, and Garrett Oliver. I knew of the BJCP and had taken many classes focusing on their content, but I was looking for a training or certification that complimented the food, beverage, and hospitality sector. The Cicerone Certification Program was a perfect fit for my endeavors.  
Why did you choose to pursue Certified Cicerone while already working in the beer industry? 
Beer and kombucha are a logical pairing, and working within the two fermented beverage realms has allowed my knowledge of each to enhance the other. I made a concerted effort to become a Certified Cicerone to enhance my education of brewing and fermentation processes with that of sensory explorations, food pairings, and the rich culture of brewing history. My studies empowered me to participate, understand, and appreciate the complex and sometimes nuanced flavors, aromas, and pairing concepts. It truly opened my food and beverage experiences to new dimensions.
What was your study support network like? Did you receive support from a study group, your employer, or study solo? 
Most of my study was done on my own and over the course of many years. But in all fairness, I gathered a myriad of knowledge and experience from hands-on training within a German Brewmaster's brewery, connections within the food and beverage scene of New Orleans, and multiple BJCP training courses with a dear friend and personal mentor.  
Describe your study process. How did you prepare for the exam?
A good portion of my study process involved blind tastings and having friends and family proctor mock tasting exams. Hands-on experience brewing and maintaining draft systems proved paramount. Additionally, there was the endless turning of flashcards while touring breweries or during idle time.  
Explain how earning your certification has helped your career.
At CRAFT CULTURE, I can guide a consumer through an entire spectrum of a beer experience from basic selection to historical notes, style parameters, technical aspects, handling/serving, and food pairing. For example, when recounting days brewing for a traditional German brewhouse, I have a metaphorical and almost romantic feel of carrying on an heirloom of traditional brewing techniques that have been passed down through generations. The old ways are becoming increasingly rare in this exciting renaissance of craft beer.
Being a Cicerone has also provided me with the opportunity to consult. With my background and certifications, CRAFT CULTURE has performed consulting services with local start up breweries in Southeast and the Northeast. Currently, I am working with the largest beer festival in the region, NOLA on Tap, to ensure the homebrew participant recruitment and competition is successfully executed.  
At Big Easy Bucha, I used my extensive technical knowledge and fine-tuned palate awareness to innovate and expand an open fermentation program while coupling it with an extensive blending regime. Furthermore, the certification provided my employers and me confidence with R&D exploration, new recipe formulations, and quality control points.  
What are your greatest strengths now that you're a Certified Cicerone? 
My greatest strengths lie with technical application, process, and fermentation knowledge. This begins with conceptual design and extends to raw materials, upstream production, downstream processing, and final product evaluation. I also find that the Cicerone title gave me clout in the field and allowed me to pursue a passion project for teaching and sharing my beer expertise with others. 
Were there any areas of study that you became particularly interested in while preparing for the Certified Cicerone exam? 
I have become enthralled with food and beverage interactions. There is a deep history and connection between meals, drinks, and why some flavor combinations work better than others. I live in arguably one of the world's greatest food and beverage cities.  Being part of the cultural fabric of New Orleans with family ties dating back to the mid 1700s, I feel it is of great importance to carry on the traditions of my city. This applies globally, as every product has a story and origin whether it be cheese, beer, wine, spirits, bread, or even water. As a Certified Cicerone, I see myself as a guide to these interactions.  
In your opinion, how valuable is it for those looking to boost their career to earn Cicerone certification? 
Cicerone certification is truly an elite certification. I believe that employers in the industry should require the certification for key positions. Considering my experience before and after, the stages of ability and execution are drastically increased. Just preparing for the exam alone requires a breadth of knowledge that far exceeds even the most avid enthusiast, consumer, or industry member. Earning the title is so much more than a piece of paper and bragging rights. It sets the bar high and separates an individual as an industry recognized professional.
What advice do you have for Certified Beer Servers who are looking into taking the Certified Cicerone exam? 
Focus on your strengths, not your weaknesses. Scoring extremely well in a few key areas of interest will carry your score in areas of less knowledge. I do recommend a solid and comfortable understanding of all syllabus items, but spend your time mastering the areas you enjoy and have an existing aptitude for. The CBS exam results and practice exams will help you identify your strengths and weaknesses.
Ready to get started? Learn more about the Certified Cicerone exam here!