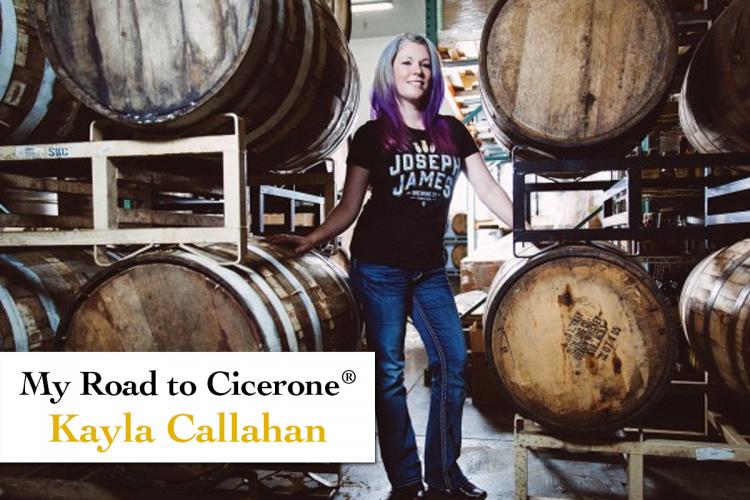 ---
My Road to Cicerone®: Kayla Callahan of Joseph James Brewing Co.
---
Kayla Callahan is a Certified Cicerone® from Las Vegas, Nevada. Here she shares how gaining a broader beer education and achieving certification have helped her beer industry career.
Where do you work and what do you do there?


I've been with Joseph James Brewing Co., Inc. since its inception in 2007.

  I've held several positions throughout my journey here at JJBC and I am now the Operations Assistant.

How did you first hear of the Cicerone Certification Program?


I attended a few industry related conferences back in 2008 where the Cicerone Certification Program had a booth. At that time I was studying for the Beer Judge Certification Program, but I wanted to further my beer education beyond process and sensory.

 

 
Why did you choose to pursue Certified Cicerone while already working in the beer industry?


I got lucky ten years ago when I landed my first job in the beer industry working for a small wholesaler that carried craft beer and imports. This allowed me to explore the various styles and complexities about beer. I was immediately hooked and started researching as much as I could about beer. As a young woman in the industry, most people assumed I didn't actually know anything about beer. So I took the exam, and now I have a nice certificate hanging in my office and an emblem on my business card. 

What was your study support network like? Did you receive support from a study group, your employer, or study solo?


I studied solo. Being in the industry, I was able to pick our head brewer's brain about process and styles. Years prior, I had joined a study/tasting group that studied the BJCP styles and parameters. I read as many books as I could to learn more about beer styles, history, and of course tasting beer. Then I would create my own quizzes based on topics from the syllabus.  

Describe your study process. How did you prepare for the exam?


The syllabus was the most useful tool at the time I was preparing for my exam. I went through each topic to find out what I needed to study. The sample exam on the Cicerone website gave me an idea of how I was going to do on the exam, and let me know what areas I needed to improve on. The BJCP style guidelines helped me with understanding styles. 

Explain how earning your certification has helped your career.


Since becoming a Certified Cicerone, I have assisted in implementing a quality control program at JJBC. I've also helped with food and beer pairings for our beer dinners.

What are your greatest strengths now that you're a Certified Cicerone?


Beer sensory. Whether it's identifying off flavors or just subtle nuances from ingredient changes, I feel pretty confident in my ability to detect and identify beer aroma and taste characteristics.

  

 
Were there any areas of study that you became particularly interested in while preparing for the Certified Cicerone exam?


I knew the least about food and beer pairing before I took the test. After preparing for the exam, I found myself constantly comparing intensities with food. Basically every time I tried a new beer, I would ask myself, "Ooh, what food would this pair with?" 

In your opinion, how valuable is it for those looking to boost their career to earn Cicerone certification?


If you are interested in the beer industry, the best way to get ahead is beer education. Having Cicerone Certification provides the credentials that prove you have a well-rounded education in beer. 

What advice do you have for Certified Beer Servers who are looking into taking the Certified Cicerone exam?

 


Start studying now. Read the syllabus and use the resources found on Cicerone.org. And start tasting every style of beer you can get a hold of! 

 
Ready to get started? Learn more about the Certified Cicerone exam here!