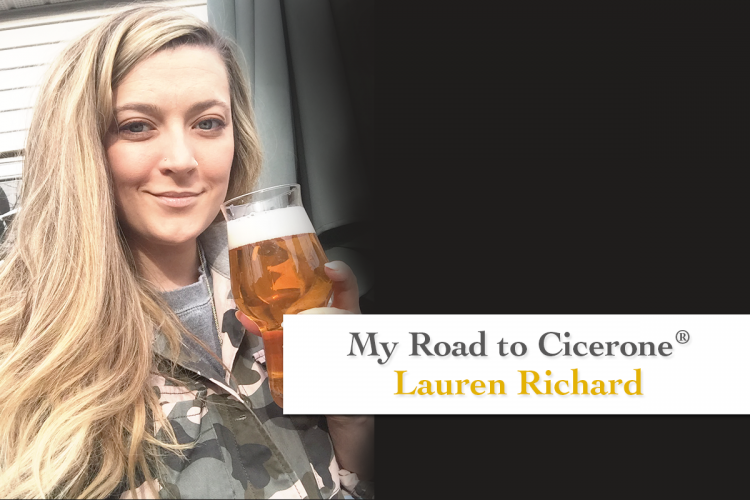 ---
My Road to Cicerone®: Lauren Richard of Hotmess Texmex
---
Lauren Richard is a Certified Cicerone® from Toronto, Ontario. Here she explains how earning her certification has improved her career and overall beer knowledge.
Where do you work and what do you do there?


I work as the Bar Manager for Hotmess Texmex in Toronto, Ontario. I curate an exclusively short can (355ml) craft beer list at the bar, which is a novelty size in Canada, particularly Ontario. You can also find me behind the bar most nights. I also do various work centered around beer education.

How did you first hear of the Cicerone Certification Program?


I first heard about the Cicerone program probably in 2013, about a year after I dove headfirst into learning about craft brewing. Ontario was just getting its wings around that time. I wrote the Certified Cicerone exam for the first time in 2014, and eventually went on to pass it in 2015.

Why did you choose to pursue Certified Cicerone while already working in the beer industry? 


I loved that the exam was self-motivated and the topics were incredibly broad. I felt as though this program would round me out for whatever opportunities came my way, from improving my keeping and serving practices at the bar and troubleshooting draft systems on the job, to teaching classes about style differences, brewing practices, and beer history. I also loved that it included some fundamental principles about beer and food pairing, which ties beer all together for me in a practical sense. The initial motivation for me was definitely for the purpose of finding more rewarding bar jobs in Toronto that could use my particular skill set.

What was your study support network like? Did you receive support from a study group, your employer, or study solo? 


I originally began studying on my own, but once I realized how vast the exam was, I signed up with a study group that was being offered in Toronto. There were about ten of us that would meet once a week with someone who had already passed the exam, and he was able to put together group tastings, off flavours, and history lessons. Even with someone guiding you along each week, you have to be entirely self-motivated and truly passionate to do the research for yourself. I liked that challenge.

Describe your study process. How did you prepare for the exam? 
I bought off-flavour kits long in advance. It's important to start training your senses on these as soon as you can. I was fortunate that this study group allowed us to buy spikes in bulk and test ourselves on something new as a group every week. I think it's imperative you try to do your tastings in a group setting when you can, because everyone is different, and someone may have a more developed sensory vocabulary that will help you to expand your own. Some people are just simply more sensitive to certain compounds, and it's important to see that for yourself and not get too hung up on it. It takes time to develop these senses, and the key word here is: Practice!


I think the biggest struggle in preparing for the exam is simply being ready to commit and to register for it. Once you've registered, it lights a fire within you, and you just get it done. I printed out the Syllabus and BJCP guidelines, and brought them with me wherever I went. It's also really helpful to map out a study schedule for yourself based on the syllabus, so you can manage your time better, and not have to cram everything in the final 2 weeks.

Explain how earning your certification has helped your career. 


Becoming a Certified Cicerone has shaped my path in this industry entirely. It gives your employer that extra level of confidence that you are a well-rounded person within this industry, and can be trusted with many different tasks. It has landed me contracts travelling across the country, working with chefs and preparing beer dinners, teaching classes on beer education at festivals, staff training across the province, and so much more. It has been a seal of excellence at the top of my resume while reaching out to employers, as well as a reason for people to find me themselves and reach out for my services. 

What are your greatest strengths now that you're a Certified Cicerone? 


I really love the style guidelines, as well as food pairing. Working in an industry where I'm on the front line at the bar, it's my job to make sure my staff and my customers understand the flavour profiles of an ever-rotating craft beer list, and get a full experience by pairing it with food. Understanding the ingredients and the breakdown of each category is paramount to understanding a beers general profile. Of course each unique beer is different from the next within its own category, but you'll have a greater understanding of what to expect from something before you've even sampled it, and it will become your new superpower. 

Were there any areas of study that you became particularly interested in while preparing for the Certified Cicerone exam? 


I've done a lot of focus on pairing beer with food, and yet still have much to learn. I'm beginning to take a greater interest in cheese, because it's the ultimate beer pairing, but cheese in itself is a whole other area of study to truly understand and appreciate. It's of great interest to me because I work in a restaurant and am faced with the possibilities every day. While curating beer dinners, it gives me the opportunity to set the tone of the evening, and to guide my customers through a sensory journey.

In your opinion, how valuable is it for those looking to boost their career to earn Cicerone certification?


The Certified Cicerone exam has provided me with over a dozen unique jobs--short-term and long-term contracts--since I passed in 2015. It has had a hand in every job I have worked in the last couple years. I truly loved preparing for this exam, and now preparing for the Advanced Cicerone exam, because it keeps me seeking more answers and pushes me to learn about new areas of the beer industry.

What advice do you have for Certified Beer Servers who are looking into taking the Certified Cicerone exam?


You have to have a genuine interest in learning for yourself. It's an extensive exam that requires a whole lot more than just memorizing. You have to truly understand the material in order to navigate the short answer and essay questions. 

Go to beer events alone. This pulls you out of your comfort zone and forces you to interact with new people within your industry. Learn from everyone you meet. 

And, of course, travel as much as you can, and drink a lot of beer!
Ready to get started? Learn more about the Certified Cicerone exam here!