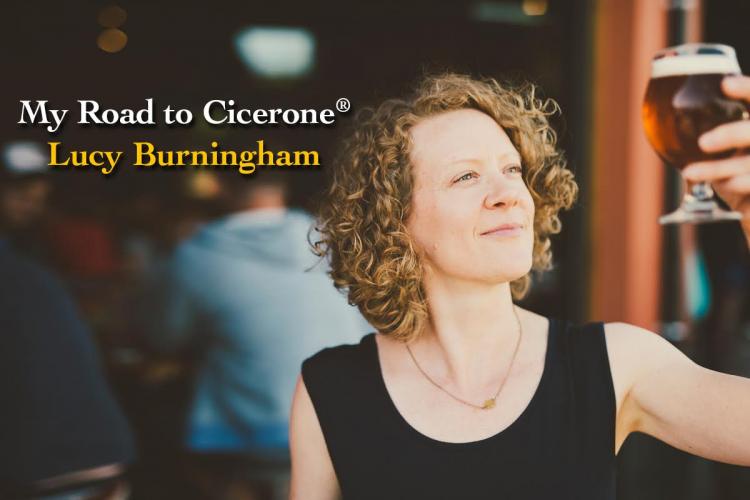 ---
My Road to Cicerone®: Lucy Burningham, author of My Beer Year
---
Lucy Burningham is a Certified Cicerone®from Portland, Oregon. Here she shares a bit about her journey to Cicerone certification and how it influenced her new book, My Beer Year.
How did you first hear of the Cicerone Certification Program?
I started hearing about Cicerone in 2009, while I was interviewing people for various beer stories I was writing. I was immediately intrigued by the idea that beer knowledge could be quantified by an exam of any kind.
Why did you choose to pursue Cicerone certification?
As a freelance journalist, I pitched stories to my editors about things that interested me, and I kept finding myself returning to beer as a topic. At some point during the seven years I wrote about beer, I realized I wanted to take my beer knowledge to the next level. I wanted to move from someone who approached beer as a generalist to someone who knew beer from the inside, as an educated beer professional. I knew pursuing Cicerone certification would force me to learn about beer with a kind of intensity and focus I craved.
Describe your study process. How did you prepare for the exam?
I decided to go all in and have experiences that would supplement my reading and flashcard making. I started hanging around commercial breweries on brew days, including Ecliptic and Breakside here in Portland, Oregon. I started making homebrew again. I went to Hair of the Dog and learned how to clean draft lines. I took a few classes, including a sensory evaluation course from Master Cicerone® Nicole Erny and a BJCP prep class. And even though I have really horrible handwriting, I made hundreds of flashcards.
Were there any areas of study that you became particularly interested in while preparing for the Certified Cicerone exam?
An absolute highlight of my year of study was going to Belgium for the first time. I feel so lucky to have had the chance to tour breweries there, which gave me a unique perspective on how tradition informs brewing techniques and ingredient choices. I became fascinated by wild yeasts and the blending process, thanks to the lambics and gueuze I tasted.
What are your greatest strengths now that you're a Certified Cicerone?
I have a greater capacity to help people discover beers they like. I love sharing small sparks of information that get people excited about trying new styles of beer. Even better: introducing them to the idea that they might like beer even if they've long assumed it wasn't for them. Beer and food pairings are part of that equation.
Tell us about your new book, My Beer Year: Adventures with Hop Farmers, Craft Brewers, Chefs, Beer Sommeliers, and Fanatical Drinkers as a Beer Master in Training.
The book chronicles the year I took to study for the Certified Cicerone exam. While the book doesn't include everything I did to prepare, it does go into detail about some of what I think were the most interesting parts of my journey, including going to Yakima during the hop harvest and sitting in on a QA tasting panel at Widmer Brothers.
During which phase of your studying did you decide to write the book?
I'd been thinking of committing to taking the test for years, and I'd made small steps like downloading the syllabus, but it wasn't until I got a contract for the book that I really got down to business. As I studied, I knew I'd write about some of what I was experiencing, so I took copious notes and researched questions that arose. Right after I took the test, I shifted into a total focus on writing (even during those agonizing six weeks of waiting for my score).
How has the book been received within the beer community?
It's been great! During the long process of studying and writing, I've felt so supported and encouraged by the beer community. Since the book came out, many people in the beer world have told me they appreciated certain scenes or sections of the book, either because they could relate to what I was experiencing or they learned something new. I was lucky to have a bunch of smart brewers, beer writers, and beer judges help fact check the book. They helped identify historical vagaries or technical contradictions, and did other important things, like tell me when I misspelled German words.
In your opinion, how valuable is it for those looking to get into the beer industry to earn Cicerone certification?
I think it depends on what you want to do in the beer industry, but in general, the Certified Beer Server exam is a great place to begin. The Cicerone program has evolved to the point where potential employers will value the fact that you have the certification, but more importantly, you can feel confident in talking to people about beer and serving it correctly. Bonus: every little bit you learn will make you realize what you don't know. And that will make you want to learn more. It's an exciting journey that doesn't end, even after the exams.
What advice do you have for Certified Beer Servers who are looking into taking the Certified Cicerone exam?
Get started right away. I took a year to study, and I wished I'd had more time. It takes a long time for all the info about beer styles to really click, and however you decide to do sensory training, you need to repeat tasting experiences as much as possible. If you can attend a BJCP prep class, do it.
What's next for you?
I'm going to keep writing about beer for magazines, newspapers and online publications. I'm also interested in helping educate people about beer, either through classes or beer dinners (I love creating and talking about food pairings). And someday I hope to return to Europe as a student of beer! Germany is top of my list.

 
Ready to get started? Learn more about the Certified Cicerone exam here!