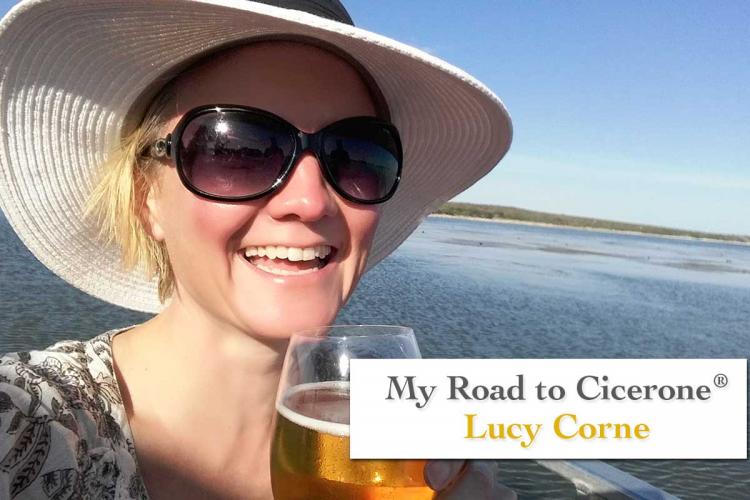 ---
My Road to Cicerone®: Lucy Corne of On Tap Magazine
---
Lucy Corne is a Certified Cicerone® from Cape Town, South Africa. Here she describes how earning her certification continues to help her shape the beer experience in her hometown.
What's your current role and how does being a Certified Cicerone help you with it?
I wear various hats within the South African beer industry. I'm the editor of On Tap magazine, the country's only beer publication, and also pen a popular blog, The Brewmistress. I also run a variety of courses, including beer appreciation, sensory training, and staff training on all aspects of beer. Since becoming a Certified Cicerone, I have started working with high-end restaurants in Cape Town and designed a half-day course for a group of sommeliers and other wine industry professionals. Craft beer is in its infancy in South Africa and with wine being so dominant it's tough to get people in the food and beverage world to take beer seriously, so these steps are awesome for the industry. I am also working with a local course provider who have been offering wine courses for decades—we are in the middle of designing their first beer course.
Describe the factors that made you decide to become a Certified Cicerone.
I've been working in the beer industry for about eight years. There are virtually no opportunities for beer-related education in South Africa, so I had been looking for ways to formalize my self-study. I had already become a Certified Beer Server and was of course keen to take the next level. I was heading to Nashville to judge in the World Beer Cup in 2018 and once I saw that there was a Certified exam happening just before the competition, I didn't think twice before signing up.
Explain some of the challenges you had while studying for the exam, and how did you overcome them? 
Mostly it was finding the time, as well as writing and educating about beer. I help to run the homebrewing club (I am the founder of South African National Beer Day) and I was just launching a pan-African beer competition when I was starting to study for Certified Cicerone, so there was a LOT on. I also have a young son, so finding time to get everything done and still study was a real challenge. Another problem was access to some of the books and of course access—or lack of—to certain beer styles.
How did you prepare for the exam? What were the most beneficial resources that you used?
The syllabus was invaluable and luckily I already had a few of the recommended books. I spent some time at a friend's restaurant, learning the ropes in the cellar since it's been a while since I worked on that side of the bar. I also spent a lot of time tasting beers alongside the BJCP guidelines. 
Since becoming a Certified Cicerone, what have been some of your greatest achievements? 
I'm really proud of the work I've done with local sommeliers and am extremely excited about the courses I've been designing. One is aimed at the general public while the other is a front-of-house course.
In your opinion, how valuable is Cicerone certification for those looking to boost their career?
It is tricky in South Africa because most people don't know about the Cicerone and the idea of a beer sommelier is quite alien to them. To my knowledge there is one beer sommelier in South Africa and I am the first Certified Cicerone on the continent. There is still this idea that wine is the drink that you chat about and appreciate and pair, while beer is something you just swig around the braai (grill/barbecue). However, I do think having the qualification is making people in the wider food and beverage industry take me more seriously and begin to respect beer a little more.
What's your top study tip for anyone preparing for the Certified Cicerone exam? 
Taste, taste, taste—and every time you taste, take notes. Not just on flavor characteristics and off flavours, but also on possible food pairings, have a go at working out the recipe and any specific brewing procedures. Let's face it, the tasting is the fun bit and there's actually so much you can do with it to educate yourself.
Ready to get started? Learn more about the Certified Cicerone exam here!