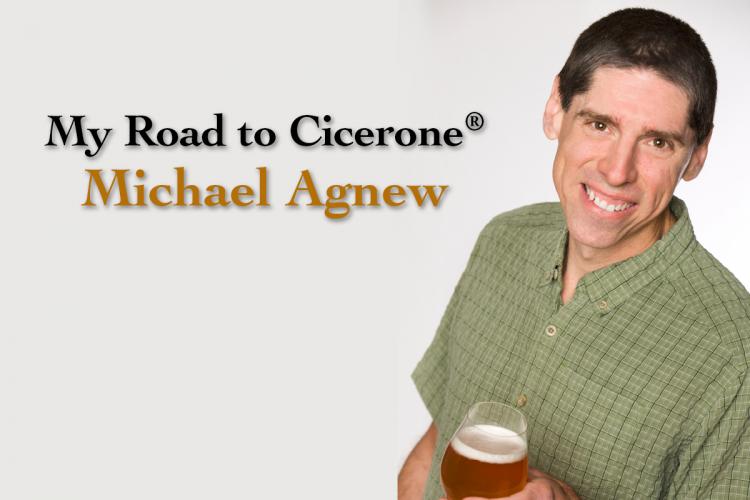 ---
My Road to Cicerone®: Michael Agnew of A Perfect Pint
---
Michael Agnew is a Certified Cicerone® from Minneapolis, Minnesota. Here he shares his experience with launching a beer-focused business and how passing the exam has aided his beer industry career. 
Where do you work and what do you do there?


I am the owner of a consulting/education company called A Perfect Pint. I lead private and corporate beer tasting events, teach classes at area cooking schools and the University of Minnesota, lead foodservice staff trainings, and consult on beer lists. I also write about beer for a number of venues including the Minneapolis Star Tribune and national beer magazines. 

How did you first hear of the Cicerone Certification Program?


I started my company in 2007, the same year that Ray Daniels first began building the Cicerone program. I don't recall how I heard about it, but I knew that the credentials would be a good thing for me as I built my own business. I got involved with Cicerone right away. I was Certified Beer Server #134 and one of the first 17 people to pass the Certified Cicerone exam in 2008. 

Why did you choose to pursue Certified Cicerone? 


I wasn't yet working in the industry, but I knew I wanted to be a part of it somehow. I knew even then – especially as an industry outsider – that if I were going to put myself out there as an educator and consultant, some kind of independent certification of knowledge would help me build a reputation. 

What was your study support network like? Did you receive support from a study group, your employer, or study solo? 


At the time there was no support network. In fact, when I told people that I was about to take the Certified level exam, the response was skepticism at best, but that worked for me. I am a solo studier by nature. I work better when I can completely control my process. 

Describe your study process. How did you prepare for the exam?


When people ask me for advice on taking the exam, I always answer, "have something to say about every bullet point on the syllabus." I very much focused my prep around the syllabus. I went through line-by-line and wrote extensive notes for each point – literally notebooks full. I started with the things about which I had a decent knowledge and did additional research in books and online to verify what I thought I knew and to fill in the holes. I then moved on to the points that I didn't know much about (draft systems in particular for me). Again, online and book learning. I really strove to be able to talk on every single point. Studying the style guidelines was a big part of my preparation. 

Explain how earning your certification has helped your career.


I was ahead of the curve when I started A Perfect Pint. Nobody in my area really thought much about doing beer-tasting events. And training service staff? Forget about it. Being able to say that I was the first Certified Cicerone in Minnesota gave me much needed credibility. It was a foot in the door of a reluctant market. As the beer scene has grown and demand for my services has increased, that certification has been a continued credibility boost. Expertise still has to be proven, but Cicerone certification gives people an initial reason to pay attention. 

What are your greatest strengths now that you're a Certified Cicerone? 


I think my greatest strength is being able to explain the complexities of beer to laymen in an engaging and easy-to-understand way. Over time I have developed several stand-alone units that cover different aspects of beer styles, service, and sensory perception. I can plug and play as needed. 

Were there any areas of study that you became particularly interested in while preparing for the Certified Cicerone exam?


For me it would be draft systems. I don't really deal much with draft systems in my work. When I began preparing for the Certified Cicerone exam, I knew next to nothing about them. That preparation made me want to know more. I even did the Micromatic three-day intensive course. I still don't deal with draft systems often, but I know a heck of a lot more about them than I used to. 

In your opinion, how valuable is it for those looking to boost their career to earn Cicerone certification?


If you want to get into or advance in the industry, Cicerone certification is a foot in the door. It's an independent and respected verification of knowledge that gives employers an initial reason to pay attention. 

What advice do you have for Certified Beer Servers who are looking into taking the Certified Cicerone exam?


The exam is more difficult than you think it is going to be. Get the off-flavor spikes and train on them. Take a BJCP prep course if one is offered in your area. 
Ready to get started? Learn more about the Certified Cicerone exam here!