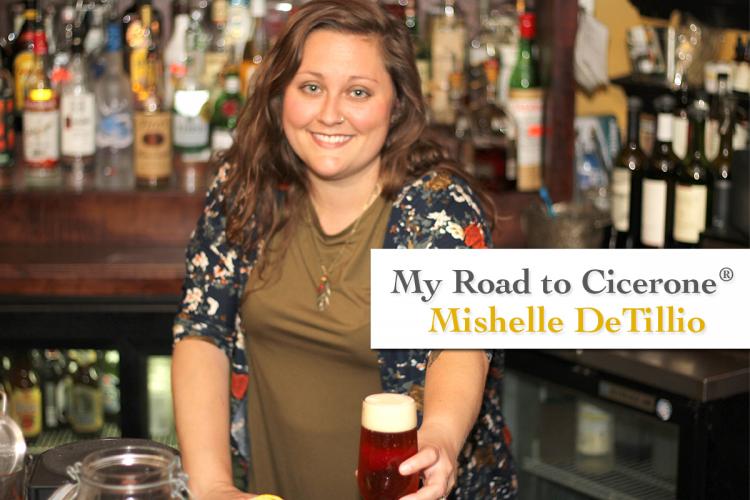 ---
My Road to Cicerone®: Mishelle DeTillio of Tupelo Honey Cafe
---
Mishelle DeTillio is a Certified Cicerone® from Asheville, North Carolina. Here she shares how becoming a Certified Cicerone has improved her career and abilities as a beverage manager.
Where do you work and what do you do there?
I work for Tupelo Honey Cafe as the Beverage Manager of their flagship location in downtown Asheville, NC. 
How did you first hear of the Cicerone Certification Program?
I first heard of the Cicerone Program when I enrolled in the Business of Beer classes offered at AB Tech here in Asheville. I was eager to use the knowledge to move forward in my career with Tupelo and to learn more about the beer world in general. Being that I am living in Beer City USA, it made sense and was something fun and interesting to learn about. Taught by Certified Cicerone Matt McComish, the course was geared towards helping someone pass the 1st level of Certified Beer Server. I acquainted myself with the Cicerone Certification process and enrolled to take the CBS exam. 
Why did you choose to pursue Certified Cicerone while already working in the beer industry?
I initially chose to further my education in beer to help jumpstart my career as a beverage manager with Tupelo Honey Cafe. Once I got the Certified Beer Server Certification I got hooked on the subject matter and was intrigued by its vast history. It was a no-brainer to dive into studying for the Certified Cicerone exam. 
What was your study support network like? Did you receive support from a study group, your employer, or study solo?
I began studying solo reading through Randy Mosher's Tasting Beer and taking notes from the Certified Cicerone syllabus. After my first attempt at the exam I realized how much more thorough I would have to be when it came to studying beer styles. I quickly sought help from the Tupelo beverage team, and with their help I was able to put together some study sessions and purchase an off flavor testing kit as well as some of the Road to Cicerone® coursebooks. Between the support from Tupelo as well as the support at home from my wonderful husband, who is also in the industry and has his CBS certification, I felt confident and capable of passing the exam after a few more months of intense studying. 
Describe your study process. How did you prepare for the exam?
I really clung to that Chris Cohen book of the syllabus breakdown and took advantage of the off flavor tasting classes held at Highland Brewing. I began shadowing my draft line cleaner to understand our beer system to the best of my ability and learned how to troubleshoot it. Big shoutout to New Belgium Brewery who got me set up with a private tour the week before my exam to really give me an up close and personal training session on the brewing process. I took a sour beer course held by Cliff Mori, an Advanced Cicerone in the Asheville area that teaches brew-ed classes. A combination of hands on experience, tastings, and reading the BJCP style guidelines, using the Cicerone Flashcards sets and seeking information from plenty of books: Tasting Beer, The Complete Beer Course, Oxford Companion to Beer, Food and Beverage Pairing. With all of these resources at my disposal I was able to truly be prepared for my second attempt at the exam. 
Explain how earning your certification has helped your career.
Tupelo has been proud and supportive throughout the entire process and is continuously encouraging me to be a better asset to our team by bettering myself. Being in the service industry, my certification has played a huge role in boosting my confidence when guiding our guests through the beer menu and being able to pinpoint which beers they may like, hate, or absolutely LOVE. This has been especially helpful because in the Asheville area there are so many great local options. With our clientele being mostly tourists experiencing the area for the first time they are almost always wanting to branch out from their typical beer preferences. It's something really special to be given the challenge of finding someone a beer they will enjoy it is such a rewarding experience when I pair them with something they end up really loving. My favorite is getting someone to be open to trying some of our Gose or sour options, pushing them into a whole new territory and really opening their awareness to some new and unique styles. From a hospitality standpoint these moments let our guests know not only that we care about their time with us, but that we know our products and want to support and fully represent the breweries around us and craft beer movement. 
What are your greatest strengths now that you're a Certified Cicerone?
Being a Certified Cicerone has helped me become more aware and involved in our purchasing process through our wholesalers and stay on top of new and upcoming trends. I am able to meet with representatives of new breweries and openly discuss their process, ingredients and the 'why' of it all with more of an understanding. I am much more technically savvy when it comes to troubleshooting our draft system and can usually solve the problem when our lines are acting up. I have been more able to train our staff on the importance of pairing and knowing the styles of the beer that we serve here at Tupelo. The ability to confidently sell the amazing local craft beers that Asheville has to provide to our guests has become second nature to me. Being a Certified Cicerone in a beer city like Asheville really opens up plenty of doors for opportunity, whether that be as an educator on the subject or being more involved in the beer scene and local happenings. 
Were there any areas of study that you became particularly interested in while preparing for the Certified Cicerone exam?
Draft system knowledge and the maintenance of different draft systems really interested me. Each draft set up is unique in its own way and can present you with some true challenges if you neglect to take care of it and learn some of the preventative maintenance.The history behind beer and the styles of beer in relation to its geographic region was also captivating. Getting into the nitty-gritty of learning when a beer style was introduced and where or why it came out the way that it did based on the water and resources a region could provide. New beer styles are constantly emerging and the BJCP guidelines were updated even after my exam so it is a continuous realm of styles to study, taste, and recognize. 
In your opinion, how valuable is it for those looking to boost their career to earn Cicerone certification?
My certification has been invaluable. As someone who is representing a company that takes pride in carrying local craft beer it has boosted my awareness of the offerings in the Asheville area and led me to be better at purchasing, storing, selling, and teaching the background of beer. Personally, I have become more confident in my position in such a beer-centric city and have been grateful to be in this exact place and time for craft beer to have such a huge awakeness. You read in history books about prohibition and its effects, and someday when someone is writing about the stories of the Craft Beer Movement I will have the recollection that I was in the perfect place and able to be a big part of it all. 
What advice do you have for Certified Beer Servers who are looking into taking the Certified Cicerone exam?
Do not underestimate this exam. It happens often that those I am teaching pass the Certified Beer Server exam and feel that they can go right into Certified Cicerone with no issue. Take your time and enjoy the studying process. If the studying starts to become a chore, take a break, go out and taste some beer, and keep it fun. 
Ready to get started? Learn more about the Certified Cicerone exam here!