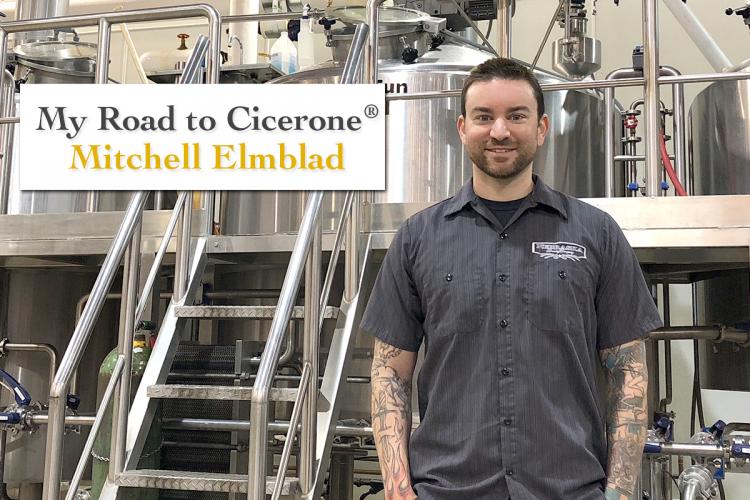 ---
My Road to Cicerone®: Mitchell Elmblad of Nebraska Brewing Company
---
Mitchell Elmblad is a Certified Cicerone® from Omaha, Nebraska. Here he shares how he got motivated to work toward the certification and how it has helped his beer industry career ever since.
Where do you work now and what do you do there?
My business card says "Zombie Brewer" but technically I am an assistant brewer and Production Facility Supervisor at Nebraska Brewing Company in La Vista, just outside of Omaha.

 

What industry were you working in when you started preparing for the Certified Cicerone exam? 
I was the restaurant manager for a small brewpub in Wyoming for only a few months when I began to study for the test. 
How did you first hear of the Cicerone Certification Program?
I had been working as a store manager in the grocery world for over a decade. I was completely burned out and needed a change. I already had a deep passion for craft beer and felt I had the knowledge to transition over to the beer industry. I interviewed for a taproom manager for an up-and-coming brewery, and it came down to me and one other person. I really felt I had it. A few days later I got the call. "Both of you interviewed well and deserve the job, but we'll have to go with the other candidate because he's a Certified Cicerone." My first thought was, "What in the world is that?!"
Why did you choose to pursue Cicerone certification?
I was pretty crushed I didn't get that position, and from that day on I was determined to figure out what a Certified Cicerone was and become one! Also, it really appealed to me that pursuing Cicerone certification is on your own time. Those with a full-time job and/or family can't always leave to study offsite for an extended amount of time to achieve a beer certification. You make your own schedule at your own pace for studies and testing. 
Explain how earning your certification helped you break into the beer industry.
I was just a new restaurant manager at a brewpub that had recently earned the Certified Cicerone title. I was minding my own business by helping run food and having server meetings when one day I find out all the brewers had abruptly just left. Gone. No one to brew. On the brink of just closing down and ceasing all brewing operations, I volunteered to team up with the owner to make something happen. Neither one of us had done anything on this kind of scale before. Not even close. We were part-time homebrewers at best. This was my time to shine and put my knowledge into application. I felt I knew a lot about the process, and the owner was ready to jump in as well.

Word quickly got around state that two nimrods that weren't brewers were now brewing on a 10bbl system and distributing around the state. People thought we were done--there goes the beer! So, we dug deep and decided to shut down the talk and brew a difficult style that had never been done at that brewery. Not only did we pull it off, but that beer won a silver medal in a well-known Colorado competition. That experience absolutely helped me break into the beer industry. Just a few months later I got the job where I am currently…as a professional brewer. 

Describe your study process. How did you prepare for the exam?
I found the Certified Cicerone resource guide and literally bought every book on the list. I read them all cover to cover. I read more in that short amount of time than I did in high school and college combined! For four months, I studied at least two hours a day, double on weekends. I treated it like a semester in a college course and had the final exam in sight. I read everything I could get my hands on and tasted every new style I had never had before. It's amazing how you can come across a brewing term you're unfamiliar with, search that online, which leads to another unfamiliar word or term, click on that link, and so on. Before you know it, hours have gone by in seconds.
Were there any areas of study that you became particularly interested in while preparing for the Certified Cicerone exam?
As with many beer newbies, I had a few favorite styles like big boozy imperial stouts, and "barleywine was life!" Every other beer was inferior! But as you continue to dissect and taste all the dozens of styles, learn their qualitative and quantitative values and descriptions, and the rich history behind their discoveries, you develop a deep appreciation for all of them. From the clean, crisp, delicate characteristics of a Kolsch on a hot summer day to a big, complex, malty Belgian Dark Strong Ale around the fireplace in winter; you find unique qualities of each to fall in love with each time. 
What are your greatest strengths now that you're a Certified Cicerone?
Definitely confidence. As a brewer I can contribute to recipe formulation, production plans, and quality control, just to name a few. With big decisions that come with those tasks, I know people can count on me to make sound and professional calls because I've got the "beer hardware" and credibility of the Cicerone Certification Program behind me. 
In your opinion, how valuable is it for those looking to get into the beer industry to earn Cicerone certification?
I might be slightly biased because it hit home for me a little closer, but it's extremely valuable. More and more companies are looking for that certification as just the entry qualification! If I'm doing any hiring, seeing that title on a resume would mean a lot more to me than just the title. It shows a desire and passion to be in the beer industry, a dedication and eagerness to take that knowledge to the next level and beyond. 
What advice do you have for Certified Beer Servers who are looking into taking the Certified Cicerone exam?
Make a game plan for studying. It can look very overwhelming when browsing the syllabus. I was wide-eyed and saying to myself, "so basically I need to know EVERYTHING about EVERYTHING, right?" I didn't have study groups or people nearby to help me out.

 

Set a timetable and focus on tackling one section at a time; such as a few weeks on the brewing process, and gather those specific books from the resource guide. Then spend a few weeks on beer styles and surround yourself with those references. 

Buy the off-flavor kit! Drink lots of bad beer! I'm talking about year-old IPAs laying around or beer left in the blazing sun for days. Go to beer stores and ask for the stuff that's been pulled off the shelf (for a discount of course). Embrace the off-flavors! This will only make you better when detecting faults in testing as well as in every day beer drinking. 

Above all, be patient. I'm the least patient person in the world, and this process forced me to slow down and fully involve myself in every aspect of this amazing beer journey, from grain to glass.

 
Ready to get started? Learn more about the Certified Cicerone exam here!