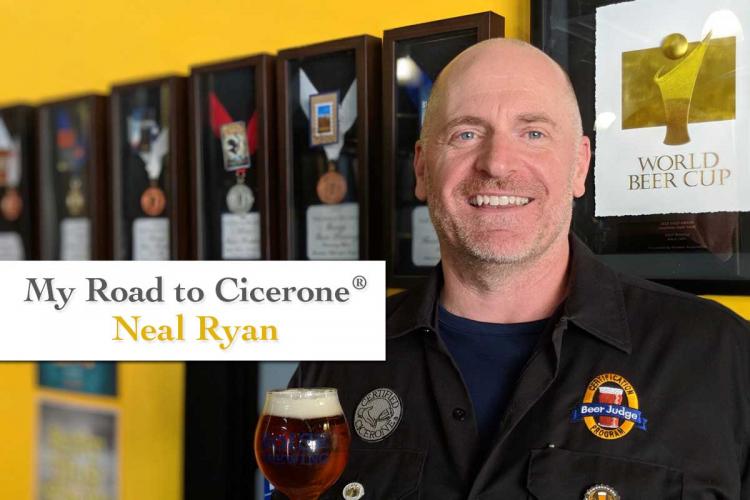 ---
My Road to Cicerone®: Neal Ryan of Boise Brewing
---
Neal Ryan is a Certified Cicerone® from Boise, ID. Here he shares how earning his credential has improved his career and skills as a beer professional.
Where do you work and what do you do there?


I am the Sales Manager at Boise Brewing. My job is to grow/expand distribution of our award-winning, four-year-old community brewery.

How did you first hear of the Cicerone Certification Program?


When I left the corporate world and started bartending at HiFi brewing in Redmond, WA, one of the owners/brewers told me about the program. He encouraged me to pursue certification.

Why did you choose to pursue Certified Cicerone while already working in the beer industry? 


Prior to working for a brewery, I was a global marketing and advertising executive specializing in the beer industry. I knew how to market beer and was lucky enough to work with and learn from the the big brewers: A-B, Miller, and Coors. 

I wanted to bring the same high level of professionalism that went into multi-million dollar ad campaigns to the taproom. At the end of the day, the beer is irrelevant if the service is poor. The person behind the bar needs to embody the creativity and passion that goes into making the beer. They need to be knowledgeable about the product and present it in its best possible light. There is no room for sloppy service in the world of craft beer.

What was your study support network like? Did you receive support from a study group, your employer, or study solo? 


I studied solo. I made use of the Cicerone coursebooks. I found them invaluable. There is so much to learn and so many places to get information that it can become overwhelming. The coursebooks became the foundation of my studies. I then built off of the coursebooks to dive deeper into the different subject matters. I also studied for the BJCP at the same time--doing so helped me with the tasting portion of the exam.

Describe your study process. How did you prepare for the exam?


One chapter at a time. And then I did it all over again. I spent a great deal of time with the study material. I did not take the test lightly. Plus it is a fun subject and I wanted to learn everything I could. 

I also tasted a wide variety of beer and brewed a lot, lending perspective and context to the study materials. I have been fortunate enough in life to have traveled internationally and domestically which provided an opportunity to drink a variety of beers and styles (I have had a beer on 6 out of the 7 continents and 45 states). I would also recommend the off-flavor kit. I bought the kit and used it close to the test date so the flavors were fresh in my mind. If you can, get a group together to share costs/experience.

Explain how earning your certification has helped your career. 


Credibility. I am only the 9th person in Idaho to become a Certified Cicerone. Also, having a historical perspective on beer and its many styles has helped me in selling beer to accounts. I can now offer a higher level of beer knowledge to an account and its customers to help make their beer experience more enjoyable.

What are your greatest strengths now that you're a Certified Cicerone? 


I love sharing my knowledge and teaching others about beer. I have helped others at the brewery become Certified Beer Servers and I am helping a few co-workers get ready to sit for the Certified Cicerone exam. 

I enjoy talking about and helping others understand more about the product they are drinking. I have also judged in several competitions and continue to help brewers make better beer.

Were there any areas of study that you became particularly interested in while preparing for the Certified Cicerone exam? 


History of beer and its regional diffences. I love learning the context and why certain beers are made in a certain way. And while I live in the hop crazy Northwest, my studies have helped me reconnect with my  love for German beers.

In your opinion, how valuable is it for those looking to boost their career to earn Cicerone certification?


It is a requirement. It is a sign of professionalism.

What advice do you have for Certified Beer Servers who are looking into taking the Certified Cicerone exam?


Find someone who shares your passion, it will make the studying easier. That's the one thing I wish I had done differently. After that, make sure you take it seriously. There is a lot to learn but if you embrace the challenge it becomes truly fun.
Ready to get started? Learn more about the Certified Cicerone exam here!