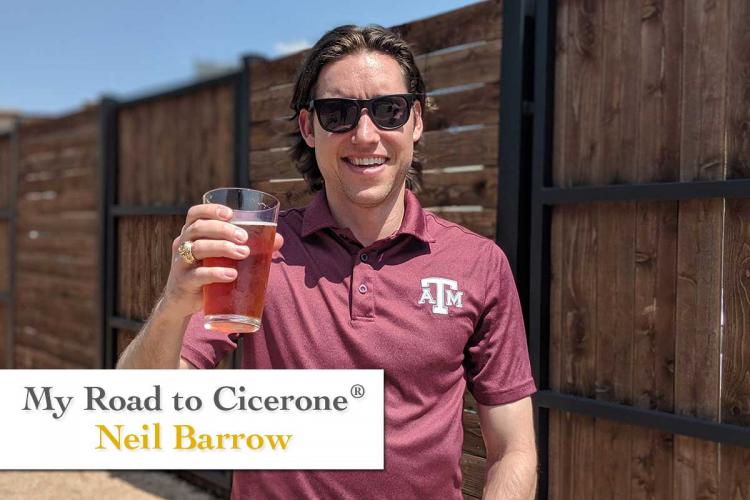 ---
My Road to Cicerone®: Neil Barrow of Fort Worth, TX
---
Neil Barrow is a Certified Cicerone® from Fort Worth, TX. Here he explains his journey to achieving his certification.
1. What's your current role and how does being a Certified Cicerone help you with it?
I am the Director of Business Development at a large, regional Texas public accounting firm. My journey into beer started in 2014 when we took a trip to the Pacific Northwest. Coming from a craft beer desert in Texas relative to the coasts and midwest at the time, was an eye-opening experience of what beer could actually be. I still remember opening the Firestone Walker XVIII Anniversary and saying, 'what is this thing?!?.' That started my path to searching, trading, traveling for, and tasting the best beers in the world. The way it helps me with my current role is many of the folks I interact with are big aficionados of wine, bourbon, scotch, etc. They also enjoy beer, but many don't know what most beer actually looks, smells, and tastes like. I enjoy being the go-to beer guy in my circles and it has opened the door for meeting people that I wouldn't have necessarily run into on my own. I love helping grow the beer journey of others!
2.Describe the factors that made you decide to become a Certified Cicerone.
It actually was inspired by my one of my wife's siblings and one of her friends. Her brother and his wife live in New York City and she is an Advanced Cicerone. One of her friends studied and received her sommelier. We started talking and I was like, 'I want to do this!.' Another reason is that many of my friends are home brewers. I wanted to be able to tell them their beer was good or bad and share my knowledge on the curriculum side to make better beer. I wanted to be viewed as a beer snob with credentials. Since then, my father-in-law is in his second year growing hops commercially here in Texas. Very exciting time.
3.Explain some of the challenges you had while studying for the exam, and how did you overcome them? 
Well, my biggest challenge was not having practical experience on the commercial brewing or service side. I had to talk with my local tap room about cleaning and behind the scenes work. I had to go to my local breweries and have them walk me through their equipment and systems. They talked with me about challenges and their process. It was challenging for sure, but it helped me become more well rounded. Admittedly, I came up short on the exam the first time I took it. I passed the tasting, but came up short on the exam…. I scored a 77 overall! That made me just buckle down more and study harder for the second time, which I thankfully passed.
4. How did you prepare for the exam? What were the most beneficial resources that you used?
I read and re-read Tasting Beer by Randy Mosher. I also read the Brewmaster's Table by Garrett Oliver. I downloaded the BCJP app to have the technical details of beer styles, which I put down on note cards. I did purchase the study materials and the off-flavor tasting kit, as well, and found them to be a helpful guide. 
5. Since becoming a Certified Cicerone, what have been some of your greatest achievements?
Oh, it has been great! I started a Beer Club at a local private club in downtown Fort Worth, where we bring in local brewers, vote on available beer on draft and bottle, and hold educational events with local folks. I have done a beer and food pairing for clients and colleagues, that I plan to do more of in the future. The most recent thing, which I would encourage everyone to look into doing, is to start a local Certified Cicerone networking group. We are holding our first event soon at a brew pub, run by a Certified Cicerone. It's a great way to share opinions, keep up with new trends and beers and build a strong network with colleagues. There aren't a whole lot of us, so it's a good idea to stay together!
6. In your opinion, how valuable is Cicerone certification for those looking to boost their career?
For me, it's built in credibility. I run into a ton of people who are into craft beer and they immediately have questions and are interested when I tell them about the Certified Cicerone program. I know I have the rote knowledge to be a resource to the craft beer community and it adds a level of confidence to what I do, specifically when speaking with brewers about my father-in-law's hop farm.  I think in the end, you can have this book knowledge, but it's how you put it into practice. This isn't rocket surgery, anyone can do this, but once you have the certification, you need to be a good steward of it by promoting world-class beer and local folks that are striving for excellence.
7. What's your top study tip for anyone preparing for the Certified Cicerone exam?
If I had to point to one area that made the most difference for me, was to write the technical details of every style on note cards and study those religiously. That pushed me through the majority of my weaknesses on the exam. Take the syllabus and make sure you have notecards for every section, at least in general terms to remind you of the specifics.  Putting the notecard knowledge into practice with your tastings of classic style examples was the biggest help for me. The tasting portion came easier to me because, let's be honest, I have been training for years drinking all of the different styles!
Ready to get started? Learn more about the Certified Cicerone exam here!