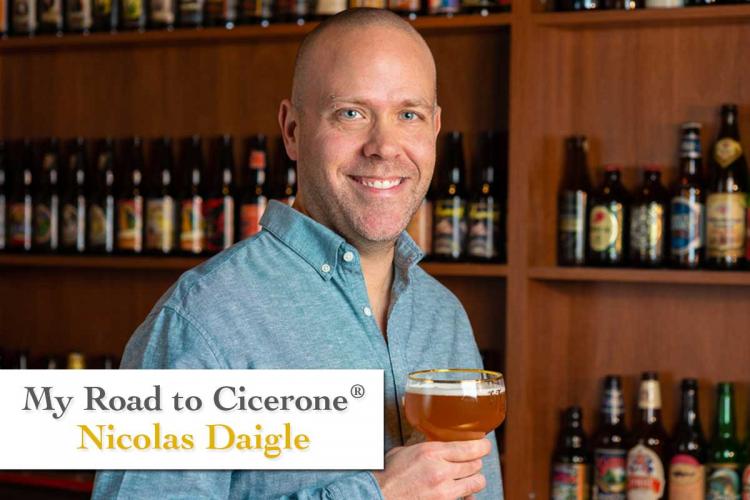 ---
My Road to Cicerone®: Nicolas Daigle of Société des Alcools du Québec
---
Nicolas Daigle is a Certified Cicerone® from Montréal, Canada. Here he explains how earning his certification has boosted his career in beer, wine, spirits, and beyond.
Where do you work and what do you do there?
I work for the SAQ (Société des Alcools du Québec) where I provide advice to customers on beer, wine, spirits and food pairing. You could say I'm the resident beer expert of the Saint-Lambert branch.
How did you first hear of the Cicerone Certification Program?
I first heard of the Cicerone Certification Program from my brother Patrick back in 2010, if I remember correctly. He was thinking of going for the Certified Beer Server exam at the time. He finally decided not to go through with it, but I did. After getting my Certified Beer Server title, I was hooked and had to take it to the next level.
Why did you choose to pursue Certified Cicerone while already working in the beer industry?
I guess I needed something. Validation perhaps, or something to convince myself and others that I really knew what I was talking about when it came to beer. You know, you study about it, taste everything, visit breweries, and go to seminars to learn everything you can about the subject. After all that, how much do you really know? Are you learning what you're supposed to? Are you on the right track? The only way to tell is by testing yourself. The Cicerone Certification Program is the best way to do so, in my opinion.
What was your study support network like? Did you receive support from a study group, your employer, or study solo?
I have the advantage of being employed by an organization where tasting is part of the work and I think that gave me a huge advantage. I was already used to tasting wines and spirits, so translating that experience and knowledge to beer was pretty easy. Other than that, I studied alone. Here in Québec, there are very few Certified Cicerones and very few people who even know about the program. Finding a study group was almost impossible. So I'm actually pretty proud of doing it all by myself.
Describe your study process. How did you prepare for the exam?
I went through all the Road to Cicerone® Coursebooks that were available to me at the time. I really took advantage of those books, doing all the exercises, tastings and suggested readings. I tasted every style that was available to me. I even went to Ontario and Vermont to make sure that my selection was wide enough. I also attended an off-flavor seminar hosted by Mirella Amato and read everything about beer I could get my hands on.
Explain how earning your certification has helped your career.
Getting my grade and earning the title gave me the confidence and credibility I needed to start my own thing. I'm in the process of developing a website where I will offer a bunch of services, resources, videos, and courses related to beer to the general public as well as restaurant and bar staff. I'll be working in French since it's my first language and there are so very few resources available on the subject at the moment. I got my first contract last December when I had the privilege of coaching Carl Villeneuve-Lepage, one of Canada's candidates for ASI contest of the Best Sommelier of the World. I think the experience was as educational for me as it was for him. I had to work pretty hard to assemble all the beers I needed for the session but it was worth it. It was great to get a sommelier's perspective and comments and I found the whole experience very enriching.
What are your greatest strengths now that you're a Certified Cicerone?
I think the areas where I grew the most when preparing for the exam are style assessment and discrimination. I love being able to tell if a particular beer is a good representative of that style or detecting off flavors and talking about where they might come from. In my view, it's what separates amateurs from professionals.
Were there any areas of study that you became particularly interested in while preparing for the Certified Cicerone exam?
The history of beer is fascinating. We don't talk about it enough, in my view. There is so much we can learn and so many things yet to discover, it's always in movement, always evolving with new historical and archaeological findings.
In your opinion, how valuable is it for those looking to boost their career to earn Cicerone certification?
I think it's a must. If you want to take your career to another level, it's a great way to let people know that you really know what you're talking about and that you're serious enough about it that you took the exam. It will set you apart from the rest of the pack for sure.
What advice do you have for Certified Beer Servers who are looking into taking the Certified Cicerone exam?
Don't take it lightly but don't stress about it either. It's a big step from Certified Beer Server to Certified Cicerone, so you need to study. Taste everything that's available to you—even wine and spirits—and start analyzing. Get those Road to Cicerone Coursebooks, at least for the subjects you're not yet comfortable with. Take an off flavor class or seminar. Read, talk, teach, dream about beer. After studying to your satisfaction, go to that exam with your head high, remember that you know your stuff, trust yourself, and enjoy the moment.
Ready to get started? Learn more about the Certified Cicerone exam here!