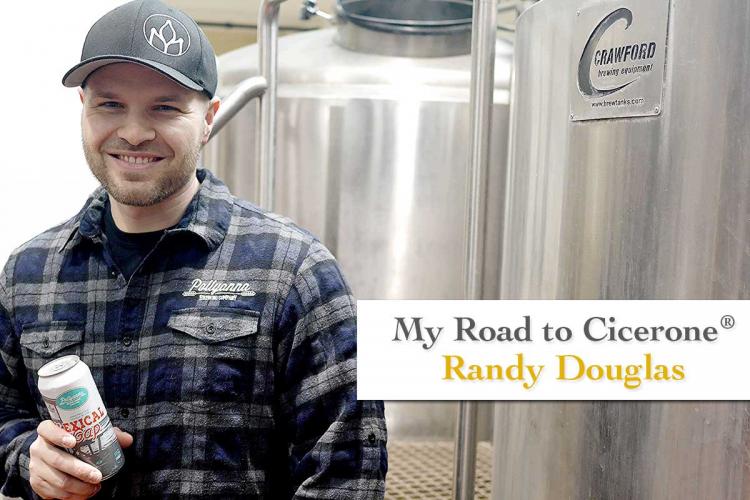 ---
My Road to Cicerone®: Randy Douglas of Pollyanna Brewing
---
Randy Douglas is a Certified Cicerone® from Lemont, IL. Here he shows us how earning his certification helped him change careers.
Where do you work and what do you do there?
I work for Pollyanna Brewing Company in Lemont, IL as the Taproom Manager. I'm responsible for planning and coordinating events such as live music and food truck visits, stocking and sales of merchandise, scheduling staff, bartending, and of course providing a positive beer drinking experience for everyone who visits the taproom.  
How did you first hear of the Cicerone Certification Program?
When an introductory beer styles class at Skeleton Key Brewing in Woodridge, IL with Marty Nachel presented itself, I quickly signed up, as I was already a huge craft beer fan. Through this class, I learned about a Business of Craft Beer Program at the College of Dupage in Glenn Ellyn, IL and registered for eight months of classes within three days. Cicerone certification was discussed early on and immediately brought an energy and excitement that began my dive into beer.  
Why did you choose to pursue Certified Cicerone while already working in the beer industry?
Besides being a professional beer drinker and volunteering at a few fests, I had no other professional beer experience. Becoming a Certified Cicerone was a mission I took on to help me acquire a job in beer that was tough to get at first. As an elementary teacher for just over a decade, I didn't quite have the beer experience or credit to gain consideration for the part-time work I was aiming for. It's hard to get experience when most are looking for you to have experience already and I knew that this accomplishment would lift me higher up the applicant list and gain notice. I didn't have any history as a server or bartender and was looking to earn that boost to jump into the industry.  
What was your study support network like? Did you receive support from a study group, your employer, or study solo?
The Business of Craft Beer program at College of Dupage was great as Marty Nachel and all other instructors were bringing different knowledge and professional industry experience to the table. It was the Advanced Beer Knowledge course put together by ridiculously smart beer mind Paul Schneider (head brewer at Cinderlands Brewing in Pittsburgh, PA) that was essential in gaining realistic expectations of what challenges the exam would bring. In eight weeks, we sampled and studied 50+ beer styles and referred to the Certified Cicerone syllabus regularly to monitor our progress. I had no idea that much content could be covered in 30 hours of class but it was addictive and Paul's passion was contagious, springboarding me into a more focused mindset from then on.
Describe your study process. How did you prepare for the exam?
Being that my employment at the time was far removed from anything beer related, studying solo for this exam was my escape and I squeezed it in whenever I could, whether that was in the car listening to the Tasting Beer audiobook, during my lunch period, or late nights after grading papers. I disregarded music for a year and spent all car time consuming beer podcasts (The Beerists will amaze, entertain, and flabbergast you with their one-of-a-kind beer descriptors) and other beer audiobooks to gain as much insight, knowledge, and overall exposure as possible. Reading was already a hobby of mine but reading about beer while drinking one was special!
The amount of resources can get overwhelming and you will inevitably feel the need to cram content in many library visits leading up to test week as I did. Everything from Tasting Beer to referencing the enormous Oxford Companion to Beer, the Brewer's Association's Draught Beer Quality Manual, and BJCP Guidelines, along with Garrett Oliver's book Brewmaster's Table proved helpful. Juggling this with teaching full time and being a professional father to our two year old twins kept things interesting. Thanks for the support, wife!!
Explain how earning your certification has helped your career.
Getting the Certified Beer Server certification started my career as I worked as a part-time Brand Ambassador for Around the Bend Brewing in Chicago on weekends while inspiring 5th-grade minds by day. Teaching helped make me comfortable speaking in front of people and I used that in my weekly tastings and fests that I continued for a year. Since Chicago is home to the Cicerone organization, there seems to be greater competition, especially with how many breweries set up shop here, so Cicerone certification provided a boost paired with newly gained experience to approach the beer industry full time. It could have been a struggle to find work in this industry with my background, and if this program didn't exist, I wouldn't have had a concrete way to prove I was serious and dedicated.  
What are your greatest strengths now that you're a Certified Cicerone?
My understanding of beers such as using descriptors and recognizing styles has greatly improved. Early on, I struggled to pick up notes and identify flavors. When asked for feedback on a beer I was tasting, I used to freeze with question marks of what I would say besides whether I liked it or not. I wasn't as familiar with some of the less-available styles to distinguish differences between beers through words. I spent time soaking up print on each style and getting more familiar with descriptors then applying that knowledge to beer tasting, almost working backwards in a sense. Doing this sort of "front loading" helped when approaching the style discrimination and off flavor portions of the exam.  
Were there any areas of study that you became particularly interested in while preparing for the Certified Cicerone exam?
Learning about the involvement of society in the history of beer and how different regions and major events impacted the creation of different styles, as well as how newer styles are evolving and interpreted is never boring. I wouldn't say that the off flavor portion of study was the most enjoyable but it definitely caught my attention and practice created awareness and more of an observer approach when visiting any places serving beer. I enjoyed being able to understand the cause of the off flavor and how it could be avoided, especially when I'm now working in a brewery setting and that detection is critical to quality of the customer experience.  
In your opinion, how valuable is it for those looking to boost their career to earn Cicerone certification?
Making yourself prepare for this exam proves extremely beneficial in having that background knowledge that many beer industry jobs seek. Of course it displays your passion and dedication, but also can help set you apart in a competitive industry and give you the confidence needed to find that dream job.  
What advice do you have for Certified Beer Servers who are looking into taking the Certified Cicerone exam?
There's a huge amount of material to cover and I am not the best at memorizing so starting early and giving yourself at least 8-12 months is imperative in being prepared for test day. You gotta love it and by using checklists, spreadsheets (for BJCP guidelines especially), and recommended resources, it will happen. Taking part in multiple off flavor exercises is beneficial, as I learned my sensitivities to certain compounds and doing the last one a week or so before the exam proved helpful with that stressful, yet much shorter, section of the test.
Tasting beer with friends is huge, as different palates with various perspectives helps you understand beer and strengthens your ability to speak about it. I also found inspiration in the book My Beer Year by Lucy Burningham as I wanted to see how another person approached preparing for the test. Although unrealistic for me to experience all she did before test day, I found it helpful in establishing a mindset in taking on the challenge. I've heard and learned that the beer community is open and willing to help others who share the same passion succeed within the industry, so take advantage of that and make some friends at your local breweries! 
Ready to get started? Learn more about the Certified Cicerone exam here!