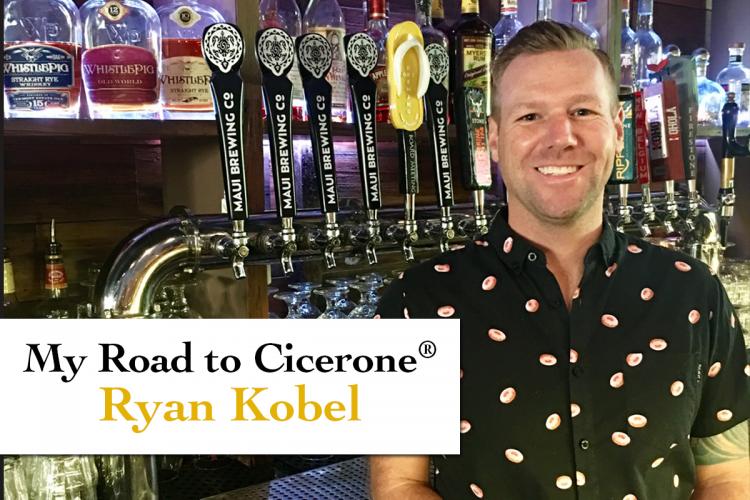 ---
My Road to Cicerone®: Ryan Kobel of The Pint and Cork & Maui Brewing Company
---
Ryan Kobel is a Certified Cicerone® from Kihei, Hawaii. Here he shares some of the difficulties of studying in Maui and how earning Cicerone certification has improved his skills as a beer industry professional.
Where do you work and what do you do there? 


I currently have two jobs. I work full-time as Lead Bartender at The Pint and Cork gastropub in Wailea, Maui. I also bartend part-time at the new Maui Brewing Company in Kihei, Maui.

How did you first hear of the Cicerone Certification Program? 


I first heard casually of the program about four years ago during a tasting with some friends. I didn't come to fully understand the program until I went to work for Maui Brewing Company two and half years ago, as they require all tasting room employees to pass the Certified Beer Server exam.

Why did you choose to pursue Certified Cicerone while already working in the beer industry? 


I chose to pursue the the Certified Cicerone level because I truly love beer and the surrounding industry. I really wanted to challenge myself professionally and personally. Being all the way in Maui, it can be a little frustrating to weave your way through the craft beer scene (or lack thereof). The faux craft beer scene was everywhere. I felt this was a great way to truly understand all aspects of this amazing beverage and help teach some interested parties along the way.

What was your study support network like? Did you receive support from a study group, your employer, or study solo? 


I took on all of the book work solo--went at it lone wolf! Working at Maui Brewing Company helped because of all the different beer styles they make that are not available anywhere else on the island. Their Quality Assurance lab was also there to answer all of the questions I had.

Describe your study process. How did you prepare for the exam? 
Almost all of my studying was done alone. I read, read some more, and read again...and then again. I found Randy Mosher's Tasting Beer to be a bible of sorts. Another book which was very helpful and enjoyable was Garrett Oliver's The Brewmaster's Table. I also gobbled up any other beer books I could find. I created binders and folders full of notes according to the syllabus. I found it very helpful to make notecards of every beer style's quantitive and qualitative properties. Then memorized every single one. It was a lot. It became very overwhelming, so I would break it up into sections at a time.

Then came the fun part: drinking beer. Lots and lots of beer. That was a big challenge. There is very limited distribution of different beer styles out here in Maui. It took a lot of searching, beer trades, and field trips off the island. The one area I did not go alone in was the off flavor portion. Working at MBC really helped--they have a quality assurance manager who would let me accompany the brew team's sensory training. I also purchased the off-flavor kit from Cicerone and did a solo training session as well. It takes a lot of focus and palate training. All I can say is drink, study, and evaluate a lot of beer styles outside of your normal repertoire.

Explain how earning your certification has helped your career. 


The certification has helped me out in many ways. Being behind a bar you are front and center. People look to you for answers and suggestions. I like to help guests become educated on beer styles, both familiar and unfamiliar to them. I love seeing people's eyes light up while helping them navigate their own palates. Discovering new flavors in beer that they did not even know where there. Being in a gastropub setting, the certification really shines--food and beer pairings go hand in hand. Our chef creates lots of flavors and knowing which beer will make his creation jump off the plate ensures an amazing guest experience. Being able to help the rest of the staff on proper service, and beer style integrity is crucial. I don't know how many times I have been to a bar/restaurant out here and asked about a beer to only receive the answer, "it's good." On the business side, it helps keep the proper product coming in. When dealing with distributors and sales reps, knowing when sales tactics straddle the line between quality and quantity is the name of the game. Overall, it creates excellent peace of mind knowing that I can go into any bar or job and immediately help out their beer program. True beer bars recognize the value as well.

What are your greatest strengths now that you're a Certified Cicerone? 


I would say my greatest strength of being a Certified Cicerone is having the knowledge base to talk with people about beer, whether it's with a new beer drinker to an established brewmaster. Also having the ability to distinguish quality beer that is out there with all of the new breweries popping up everywhere, everyday.

Were there any areas of study that you became particularly interested in while preparing for the Certified Cicerone exam? 


I loved learning about a beer style that was new to me, then going out and trying to find it. That's really hard to do in Maui so the challenge kept me interested. Also the early history of beer is fascinating. It's crazy how much a single drink changed the world.

In your opinion, how valuable is it for those looking to boost their career to earn Cicerone certification? 


If you are serious about beer, it is very valuable. The certification makes sure you are competent in all aspects of the beer industry. Whatever part of the industry you work in, you will be prepared for most of the questions that come your way.

What advice do you have for Certified Beer Servers who are looking into taking the Certified Cicerone exam? 


My advice is just dive right in. It requires a lot of study and effort to pass. Put in the work at a steady pace. Go back, re-learn, re-study everything. You have to care and be passionate about the industry. You will know quickly if it is right for you. If it is, the journey is really fun and keeps you ahead of the curve. 
Ready to get started? Learn more about the Certified Cicerone exam here!