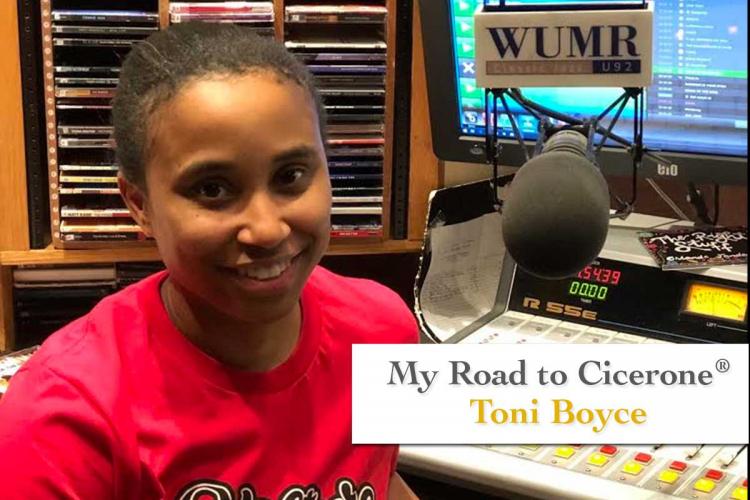 ---
My Road to Cicerone: Toni Boyce of Beer Kulture
---
Toni Boyce is a Certified Cicerone from Valencia, CA. Here Toni explains the study process as well as ongoing career developments as a result of certification.
What's your current role and how does being a Certified Cicerone help you with it?
My current roles are freelance writing and the Craft Expert role as part of the Beer Kulture Board of Directors. Being a Certified Cicerone really helps with writing when it comes to framing stories that are technically focused or focus on parts of the brewing process. For example, approaching sources for my most recent piece about draught beer quality as it relates to COVID-19 was much easier knowing basic draft principles. In the Craft Expert role, which entails working with breweries on Kulture Kollabs in choosing styles and coming up with recipes, having style knowledge of different beer styles and the brewing process helps a lot. 
Describe the factors that made you decide to become a Certified Cicerone.
I became interested in beer, because it was both technical and communal, and on the technical end, I wanted to learn as much as I could before attempting to enter the industry. Working on earning a certification gave me a structured way to approach this goal, especially when it came to identifying an achievable scope of knowledge. As a Black member of the LGBTQ+ community, I'm not afforded the benefit of the doubt when it comes to my beer knowledge, so getting the certification has given me some footing when comes to presenting myself as a professional member of the beer community. 
Explain some of the challenges you had while studying for the exam, and how did you overcome them? 
The biggest challenge I had with studying for the exam was retaining the quantitative specifications and commercial examples for each style. One thing that helped me prepare in that area was making flashcards and memorizing one or two new styles each day. Another challenge I had was with style discrimination. I dealt with this by having my wife set up blind tasting panels of some styles that were similar in appearance and tasting through them periodically. She has a better palate than I do, so having her describe what aromas and flavors she experienced in certain styles also gave me some good descriptors to associate when I was tasting.
How did you prepare for the exam? What were the most beneficial resources that you used?
Randy Mosher's Tasting Beer and the Road to Cicerone study guides and exams were helpful in helping me prepare for the written portion. I judged some BJCP competitions which helped with learning descriptors and off flavors, as well as made some trips to breweries with an Advanced Cicerone to study. I also ordered a faucet that I practiced taking apart as I learned the components.
Since becoming a Certified Cicerone, what have been some of your greatest achievements?
I was able to work for a respected, nationally distributed brewery as a chemist, and I have become a published beer writer. I recently got my first cover feature in VinePair in September of 2020.
In your opinion, how valuable is Cicerone certification for those looking to boost their career?
Cicerone certification is very valuable to those looking to work in beer service. Knowing basic draft principles and style guidelines is a huge help in discussing beer in externally facing roles.
What's your top study tip for anyone preparing for the Certified Cicerone exam?
Be sure to familiarize yourself with the structure of the exam, and simulating the exam environment, including the tasting exam and demonstration when you take practice exams close to the exam date. Knowing what to expect really helps in keeping your focus on the material come exam day.
Ready to get started? Learn more about the Certified Cicerone exam here!