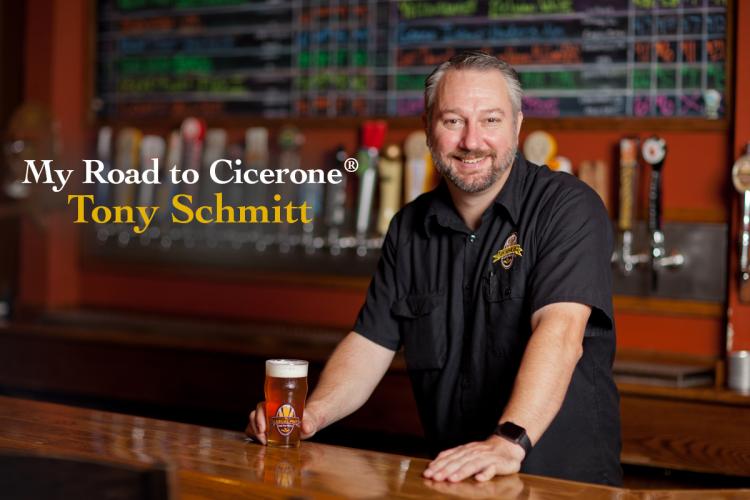 ---
My Road to Cicerone®: Tony Schmitt of The Casual Pint
---
Tony Schmitt is a Certified Cicerone® from Knoxville, Tennessee. Here he shares how achieving Certified Cicerone has helped his career and led to new opportunities in the industry.
Where do you work and what do you do there?


I work at The Casual Pint, a craft beer market in Knoxville, Tennessee. I'm the General Manager of the store, and when a new franchise opens I'm in charge of training new managers and staff. I am also the education chair for the Knoxville Area Brewers association, where I organize educational efforts for both brewers and the general public in regards to craft beer.

 
How did you first hear of the Cicerone Certification Program?


When I began working at Stone Brewing in San Diego it was required to be at least a Certified Beer Server. Little did I know that test was just the beginning!

Why did you choose to pursue Certified Cicerone while already working in the beer industry?


I had been interested in Certified Cicerone since I achieved the level of Certified Beer Server. I knew that the title of Certified Cicerone carried a lot of weight, and that studying and sitting for the exam would greatly improve my skills as a craft beer professional.

What was your study support network like? Did you receive support from a study group, your employer, or study solo?


I got quite a bit of help from the local brewers and breweries of Knoxville. I helped out with brewing and was able to ask a lot of questions to some really talented people. Several of my friends who had already achieved Certified Cicerone also were a big help to me, sharing with me their experiences preparing for the test.

Describe your study process. How did you prepare for the exam?


I enrolled in a Beer Judge Certification Class, which helped break down all the styles, and also really improved my palate. I wrote practice essays on styles, food pairing, brewing process, and anything else I could think of. Writing it out as an essay really helped me to know the material inside and out. I also began teaching beer classes, and organized a few off-flavor tastings. Also flash cards. Many, many, flash cards.

 
Explain how earning your certification has helped your career.


The knowledge I gained while studying for Certified Cicerone is information I use on a daily basis, whether it's troubleshooting a draft system, explaining the flavor profile of a certain style, or quality checking a beer for off flavors.

What are your greatest strengths now that you're a Certified Cicerone?


I think a deep working knowledge of beer styles is one of my strengths, but I feel like being able to break those styles down and explain them easily is my biggest strength.

Were there any areas of study that you became particularly interested in while preparing for the Certified Cicerone exam?


Food pairing! I thought it was incredible how beer and food can both be enhanced with the correct pairing. For good pairing, you need to have a good understanding of the flavor profiles of the beer and the food you're pairing it with. Every time I do a pairing, I learn something new!

In your opinion, how valuable is it for those looking to boost their career to earn Cicerone certification?


I think it's an excellent way to show your passion for craft beer. It demonstrates that you are willing to take the time and effort to really know your craft, which is something other craft beer professionals will take notice of.

What advice do you have for Certified Beer Servers who are looking into taking the Certified Cicerone exam?


A great start is to get involved in a Beer Judge Certification class. Start home brewing, or see if you can assist at a local brewery. Download the syllabus, and start studying!
Ready to get started? Learn more about the Certified Cicerone exam here!